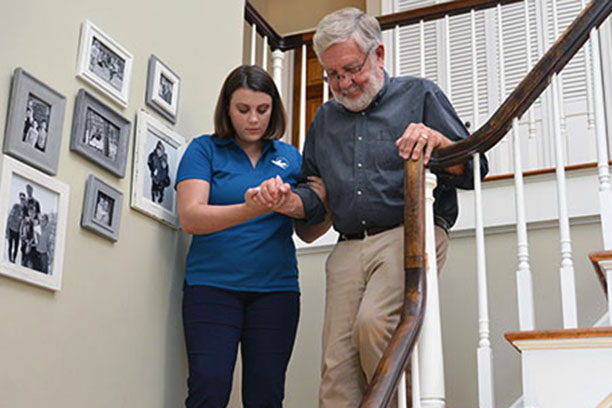 Elderly Care Providers Assist with Fall Prevention in Lubbock, TX and the Surrounding Area
Visiting Angels Lubbock offers local seniors our Safe and Steady fall prevention program. This program is used to assist seniors who want to prevent slips, trips, and falls in their homes. When seniors can prevent falls, they are reducing the chances of hurting themselves. Injuries from these kinds of accidents are the number one reason that seniors lose their independence. This is why elderly care services, like fall prevention, are essential for
aging in place
.
Why Fall Prevention for Seniors is Important

Our team is committed to helping Lubbock seniors remain in their homes as love as they wish; our services keep seniors safe, happy, and incredibly comfortable. Seniors have suffered from falls more often than younger adults-- 1 in 3 seniors experience a severe fall each year. These falls typically result from events such as:

Hearing loss

Decreased strength

Poor coordination

Limited mobility

Reduced eyesight

Stiff or painful joints

Health complications

Cognitive disorders

Multiple medications
Seniors are more likely to suffer from a severe injury when taking a fall; in most cases, these injuries can have life-threatening or life-altering side effects. The most dangerous danger is hip fractures-- this affliction can take up to 12 months to recover from. It may also require transitional care and comes with a significant risk of life-threatening complications. Typically, seniors don't recover fully from hip fractures, and they lose their independence as a result.

Luckily, the majority of these falls are preventable. With Visiting Angels, elderly care services such as our Safe and Steady program can reduce your loved one's risk of falling in the home-- this is the most commonplace for slips, trips, and falls to happen.

How to Prevent Falls at Home for Seniors

Research has shown that 75% of falls happen around the home. This is why we believe that most falls are easily prevented by taking precautions around the house. Our Safe and Steady Fall Prevention Resource Guide is used to help families identify fall risks around the home and the steps needed to reduce said risks.

This guide includes critical information about:

Precautions you can take to eliminate fall risks from the home

Design changes that can reduce seniors' risk of an at-home fall

Environmental risk factors that increase the likelihood of falls at home

Lifestyle changes that can further reduce fall risks for seniors

Physical, social, and emotional health impacts of falls by the elderly
This guide also includes a list of simple home modifications that can be made around the home to reduce the risk of falling. The guide also offers a 59-point home safety checklist.

Get Started with Visiting Angels

We have committed our time and energy to extend our elderly care services to local seniors. Our team of caregivers has been shown to reduce the risk of falls in multiple ways for seniors in the community. We offer companion care to help your loved one live in a safe and tidy home, as well as assistance with day-to-day tasks that may be risks for falls. Our personal care services are used for seniors who need help with dressing, bathing, and mobility.

Fall prevention is also an essential part of several other Visiting Angels elderly care programs, including our Alzheimer's care, dementia care, and Ready-Set-Go Home transitional care services.
Ready to get started with fall prevention?
Find your nearest Visiting Angels' home care agency today or CONTACT US to learn more about our elderly care services!
Download our free "Safe & Steady Fall Prevention Resource Guide" today.
Serving Lubbock, Lynn, Crosby, Floyd, Garza, Hale, Hockley, Lamb Counties, TX
Visiting Angels
LUBBOCK, TX
5428 114th St
Lubbock, TX 79424
Phone: 806-687-2780
Fax: 806-687-2784