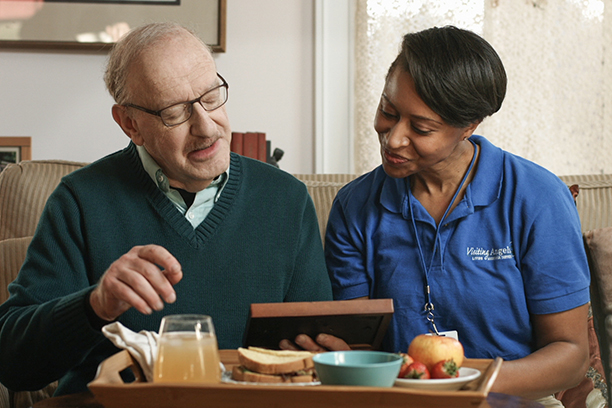 Personalized Senior Care Services for Senior Veterans in Lubbock, TX and Surrounding Areas
Proudly Serving Our Veterans in Lubbock, TX and surrounding areas with Personalized Senior Care

Whether your loved one served in one of our wars, or if they served in peacetime, the time eventually comes when they can no longer live independently. That's why we're here at Visiting Angels to provide personalized senior care for qualifying veterans and their families in and near Lubbock, TX, and the surrounding areas
We're a local, top-quality, in-home senior care organization providing care to our veterans. At Visiting Angels, our team of professionals has years of experience assisting seniors and aging adults with finding personalized in-home senior care. Our remarkable caregivers are trained to provide services that meet the changing needs of seniors and seniors with physical disabilities.
Our dedication to providing you and your loved one with a personalized senior care plan begins each day at our Lubbock, TX location.

Available VA Benefits

Your elderly loved one may be eligible for numerous financial benefits from the US Government through their Veteran's Affairs (VA) benefits.
Some of these benefits Visiting Angels of Lubbock, TX can provide your senior loved one with includes:
Personal Care, including bathing, dressing, and grooming
Incontinent Care
Light housekeeping
Laundry
Medication Reminders
Meal preparation and assistance with feeding
Assistance with ambulation, transferring, repositioning, and exercise.
How Visiting Angels Help Veterans in Lubbock, TX and the surrounding area
At Visiting Angels, we'll provide care for your loved one at the home of your choice. Our caregivers will assist with the most challenging tasks for your loved ones to perform and make it easier. We can help them achieve their daily tasks such as bathing and dressing while also providing mobility assistance by assisting with transfers or positioning. For our elder adult clients who have physical disabilities or cognitive issues, we can help them take care of personal hygiene needs and prepare meals and help them eat.
We create a unique approach for each client, as we all know each person is different and has their own needs that may not be like another. This is why we have personalized senior care plans that meet your loved one's needs and schedule.

Our caregivers are compassionate, highly-trained, and committed to providing seniors and seniors with physical disabilities with the highest quality of care. Our services allow you or your loved one to continue living independently in the comfort of their own home.
Please get in touch with us at our main office in Lubbock, TX, to learn more about serving veterans by providing personalized senior care plans. Our friendly team will be more than happy to provide you with more information about our services.
Serving Lubbock, Lynn, Crosby, Floyd, Garza, Hale, Hockley, Lamb Counties, TX
Visiting Angels
LUBBOCK, TX
5428 114th St
Lubbock, TX 79424
Phone: 806-687-2780
Fax: 806-687-2784