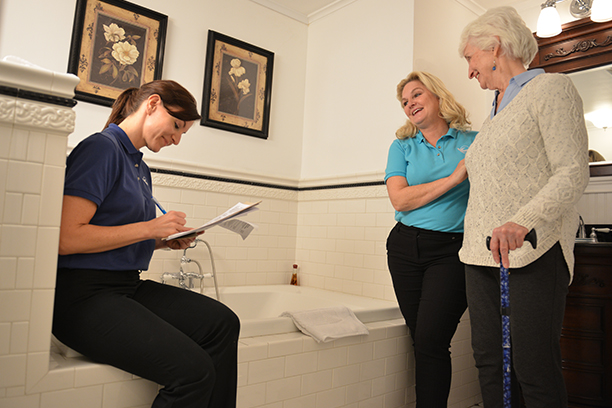 Home Care in Waltham
For the highest quality home care in Waltham, you need care professionals who are just as invested in your loved one's well-being as you are. At Visiting Angels® Medford MA, our caregivers are like family to the seniors they serve.
We are proud to support families in Waltham, Medford, Arlington, Belmont, Melrose, Malden, and the surrounding towns. We offer personalized home care services with compassion and respect to make our clients and their families as comfortable as possible.
Whether your elderly mother needs help with the groceries or your father needs around-the-clock assistance to bathe, dress, and move around the home, our caregivers can provide whatever form of care they need. Every member of our team has been thoroughly vetted — background check included — to verify their skills and that their approach to care will meet our high standards.
About Our Home Care Services in Waltham
Do you wish you could visit your elderly loved one more often? Have you seen signs they're not eating well, or that they're struggling with other aspects of daily life? If so, our caregivers are here to help. We offer several home care services in the Waltham area, including:
Friendly companionship
Errands and grocery runs
Bathing and dressing support
Walking and transferring assistance
Medication prompts
Meal prep and planning
Respite care
Specialized care for dementia
As your loved one's needs aren't restricted to business hours, neither is our home care. All of these services are available at any time, day or night, every day of the year.
Our Home Care Process in Waltham
At Visiting Angels Medford MA, we view all of our clients as individuals with their own specific care needs. We also consider their living situation and the family members involved in their care. To provide a level of care that makes life better for everyone, we develop a unique care plan for every family we support.
To get started, our home care team in Waltham will guide you through these initial steps:
Making contact: First, call Visiting Angels Medford MA to speak to one of our care professionals. You can outline your situation, ask about specific services, and discuss our home care rates.
Evaluating your family care needs: The next step is to meet with your loved one and other relatives in person to assess the situation and figure out the right form of support for your family as a whole. During this no-cost evaluation, we'll consider your loved one's physical and cognitive health, their current difficulties, their preferences, and what support they receive from family members.
Laying out a plan: The insight we gain at the evaluation will help us draft a personalized care plan outlining what care your loved one needs and when. We'll propose this plan to your family to make sure everyone is happy.
Selecting the right caregiver: Finally, we can select and introduce you to the caregiver we view as the best fit for your family's needs and preferences.
Personal Care in Waltham
Most seniors would prefer to age in place if possible, but it can become increasingly frustrating and even dangerous if they can't manage basic tasks on their own. Our home care includes personal care services to help your loved one follow their daily routine more comfortably. The tasks we can assist with include:
Grocery shopping
Running errands
Cooking
Planning meals
Light housekeeping
Bathing and dressing
Taking medications on schedule
Walking
Moving from place to place
Respite Care in Waltham
Are you already caring for an older relative? If so, you may be overwhelmed by all there is to do — especially as you process your own feelings about your loved one's condition and manage your own life. To be an effective family caregiver, you have to recognize your limits and get the rest you need to prevent burnout.
We offer respite care services because we recognize the strain so many family caregivers face. Request occasional or recurring coverage of your caregiving duties while you step back and recuperate.
Alzheimer's and Dementia Care Services in Waltham
Cognitive decline can add a whole new range of complications and risks for seniors. If your loved one has developed signs of Alzheimer's disease or another kind of dementia, whether it's memory loss or general confusion, we can help maintain a peaceful setting where they feel comfortable and safe.
Our specialized support can include wandering prevention and monitoring, meal preparation, medication and appointment reminders, and other targeted services.
Social Care and Companion Care
Do you worry that your elderly parent is lonely? Continued isolation can take a real toll on your loved one's quality of life.
Our home care services includes social care to help seniors feel more comfortable using newer technology to keep in touch. Through our companion care, we also provide meaningful conversation and companionship at home and on outings.
End of Life Care
Is your loved one facing the end of life transition or the final stages of a terminal illness? Our caregivers can help relieve their physical discomfort and offer logistical and emotional support for your family at this time.
Palliative Care
If your relative has been diagnosed with a serious condition, we can tend to their physical, social, spiritual, and emotional health via our holistic palliative care service. Our warm and compassionate caregivers can also uplift your family throughout this period.
Ready-Set-Go Home
Many seniors dread the thought of a hospital stay. Unfortunately, many are actually readmitted within a month of their initial treatment. We designed our Ready-Set-Go Home program to reduce readmission risk.
Our caregivers can consult with your relative's doctor in the hospital to get clear, completed details about your loved one's condition and the necessary follow up. They can also provide day-to-day support as your relative recovers at home.
Safe and Steady Fall Prevention
A fall can be a very unsettling event for seniors, whether they're seriously injured or not. We address fall risk by identifying specific risk factors, suggesting minor changes to make each home more fall-proof, and incorporating walking support in our home care.
Get Started with Home Care in Waltham Today
To find out more about our home care in Waltham or to set up a consultation, call Visiting Angels Medford MA at (781) 395-0023 today.

Serving Medford, Malden, Melrose, Arlington, Belmont, Waltham, Lynn and Saugus, MA
Visiting Angels
MEDFORD, MASSACHUSETTS
1 City Hall Mall
Medford, MA 02155
Phone: 781-395-0023
Fax: 781-395-0025