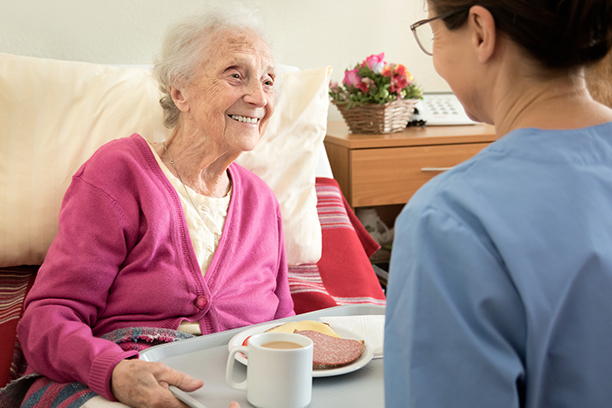 Senior Home Care In Stephens City, VA
Older Adult Care Services in Stephens City
Have you been looking for the right senior care plan for your older loved one in Stephens City? There are several great ways to ensure that your elderly loved one is receiving proper care. Many opt to move their senior loved ones into a nursing home or assisted living facility. These places are wonderful sources of joy and care for many. However, these senior living communities can be very expensive, and many older adults do not wish to move away from home. The moving process can also be very stressful for seniors, and selling a home is rarely a simple endeavor.
Some other families choose to take care of their older loved ones on their own. In fact, millions of people across the US are currently acting as unpaid caregivers for seniors. While this can be extremely rewarding, it can also require more time and energy than your family has available.
Does your senior loved one wish to age in place at home while still receiving professional care? If so, in-home care may be the right option for them. With at-home care plans, seniors get access to caregivers who will come to their homes and provide them with nonmedical care to help them stay safe, healthy, and comfortable.
What is In-Home Care?
At Visiting Angels, we send licensed, trained, and background-checked caregivers to care for seniors in their own homes.
Our team members can provide your loved one with a wide array of non-medical care services including:
Assistance with errands
Cooking and other elements of meal preparation
Companion Care
Fall prevention
Tidying and light housekeeping
Transportation to specialty care providers like doctors and veterans services facilities
Medication reminders
We can provide your loved one with care as often as necessary–even if that means providing round-the-clock care. We offer live-in and 24/7 caregivers for seniors who need constant care. Our caregivers can be there for your loved one whenever they are needed.
Additionally, our team can assist current caregivers with respite care services. Our team can temporarily assume your senior care duties to give you a moment to relax, recharge, and take care of other matters that need your attention. We understand how much energy goes into senior care routines, and we seek to make caregivers' lives just a bit easier.
What Makes Visiting Angels Special?
At Visiting Angels, we approach every senior care plan from a place of compassion, empathy, and understanding. We listen to our clients' needs to provide them with tailor-made holistic care plans to fit their individual needs. Our team is ready to provide outstanding non-medical care for your loved one, even if they need extra assistance because of a chronic condition like mobility disorders, Dementia, Alzheimer's, cancer, or neurological diseases such as Parkinson's. We also offer end-of-life care for seniors with terminal illnesses. Every senior is unique, and our holistic personalized care plans are designed to fit your loved one's exact needs.
Schedule Your Free Care Evaluation
At Visting Angels, we want families to feel confident in their decisions regarding elder care. To help potential clients with the process of selecting a senior care option, we offer free, no-obligation care evaluations to anyone interested in our services. During this complimentary consultation, our team can answer questions, discuss costs, and provide you with more information to help you and your family make an informed decision regarding your loved one's care. If you would like to schedule a Visiting Angels care consultation, call our office or use our online contact form. We look forward to working with you and your family!
Serving Winchester City and Communities in Frederick, Clarke, Warren & Fauquier Counties
Visiting Angels
NORTHERN SHENANDOAH VALLEY VIRGINIA
158 Front Royal Pike #103
Winchester, VA 22602
Phone: 540-409-4401
571-258-0111
Fax: 540-409-4990