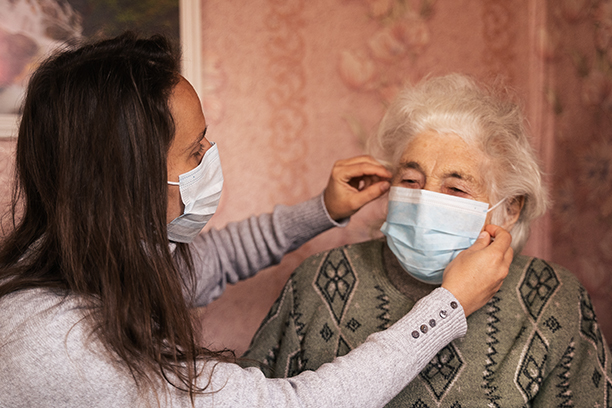 High-Quality Alzheimer's Care Services in Bon Air
In-Home Alzheimer's Care in Bon Air, VA
There are a lot of concerns that families deal with when a loved one is diagnosed with Alzheimer's. Many families fear losing the person they once knew, and other families worry about how their loved one's cognitive function will be affected. As a family caregiver, providing care can be very demanding emotionally and physically. When you're looking for Alzheimer's care in Bon Air VA, choose Visiting Angels Midlothian.
Visiting Angels Midlothian is an in-home senior care provider. At Visiting Angels, we understand how important it is to have your loved one at home. That is why we provide in-home Alzheimer's care for your loved one's needs so they can stay comfortable at home for as long as possible. We understand your concerns and have the experience to provide the compassionate Alzheimer's care you're looking for.
Personalized Alzheimer's Care Services for Bon Air Seniors
At Visiting Angels Midlothian, we understand that everyone has unique needs and preferences. That is why we provide an individualized plan of care for all of our clients. Our trained caregivers work with your family to provide senior care that accommodates schedules, preferences, and your loved one's well-being. You can rest assured knowing that our caregivers are trained to provide a level of care that best fits your loved one's needs.
Raising the standards for Alzheimer's Care
To provide the level of care needed for Alzheimer's patients, we created a formal training program for our caregivers. The program is actually a collaboration with the Alzheimer's Foundation of America. The training program ensures that our homecare providers have the knowledge needed to best care for someone with Alzheimer's. We always strive to provide our clients with the best care possible.
Living Assistance Services in Bon Air
Visiting Angels Midlothian provides several living assistance services to not only help those with Alzheimer's, but also help seniors with dementia. Our services are designed to help your loved one maintain their independence and their dignity. We provide assistance with:
Medication Reminders
Hygiene Care
Meal Planning & Preparation
Dressing Assistance
Assistance with Errands
Other Activities of Daily Living
Getting Started with Visiting Angels
It is easy to get started with Visiting Angels Midlothian. One of our services coordinators will have an initial meeting with you. We will then get to know you and your loved one so we can understand the specific needs and preferences you may have. You are also welcomed to bring up any questions and concerns you may have during our initial meeting.
Once the initial meeting is complete, we will then use the information we've gathered to carefully create a customized plan of care that accommodates your loved one's lifestyle and needs. After the plan is created, we will look for a caregiver who will be compatible with your loved one while also being able to provide your aging loved one with the needed assistance.
If you are ready to take the next step and want to schedule an initial meeting, or if you want to learn more about our services, feel free to contact us today to schedule our first consultation.
Serving Midlothian, Richmond, Chesterfield, Henrico and throughout the Southside neighborhoods of Brandermill, Bon Air, and Westhampton
Visiting Angels
RICHMOND, VIRGINIA
14321 Winter Breeze Dr #83
Midlothian, VA 23113
Phone: 804-423-6500
Fax: 804-423-6533