Dementia Care in Greater St. Charles: When They Want To Go Home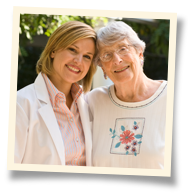 For seniors with dementia, it's not uncommon for them to say, "I want to go home." As a family caregiver, you might wonder what to say in response. When it comes to dementia care, Visiting Angels® Greater St. Charles can help you understand how to approach these situations.
Here are a few dos and don'ts.
Dos and Don'ts: Responding When A Family Member Asks To Go Home
Dementia care can come with surprising challenges and scenarios you've never dealt with previously. If your loved one requests that you take them home, here's what our care team in Greater St. Charles recommends:
Don't respond emotionally. For family caregivers especially, exhaustion and burnout is uncommon. When your loved one asks to go home, you may be angry or frustrated. It's understandable: everyone has tough days. But try to take a minute or two to compose yourself, if possible. If you react with emotion, it'll only serve to agitate them.
Do try to comfort them. When someone with an advanced memory disorder asks to go home, they don't necessarily mean what they're saying. Instead, they're often trying to communicate an uneasiness or discomfort. You want to be comforting and reassuring, as much as possible. You want to be a steady presence they can rely on.
Don't argue or use logic. If your loved one's at their home already, you may want to explain this to them. But that's the last thing you want to do. Explanations can feel like arguments to those with dementia. It may be hard for them to follow along, only creating more frustration on their part.
Do find an engaging diversion. You want to re-establish a feeling of comfort and security for your loved one. It's a good idea to have some diversions already pre-planned for a situation like this. Try to steer their attention in another direction subtly. For example, keep a photo album nearby. You can ask them to show you their home and then gently reroute the conversation to favorite memories.
Schedule Dementia Care in Greater St. Charles
You don't have to shoulder the task of dementia care by yourself. At Visiting Angels Greater St. Charles, we provide support to family caregivers as well as seniors living alone with dementia in:
Greater St. Charles
Cottleville
St. Charles
St. Peters
Weldon Spring
Orchard Farm
And throughout the surrounding area
Learn more about your options for dementia care. Schedule customized caregiving services by calling Visiting Angels Greater St. Charles today.