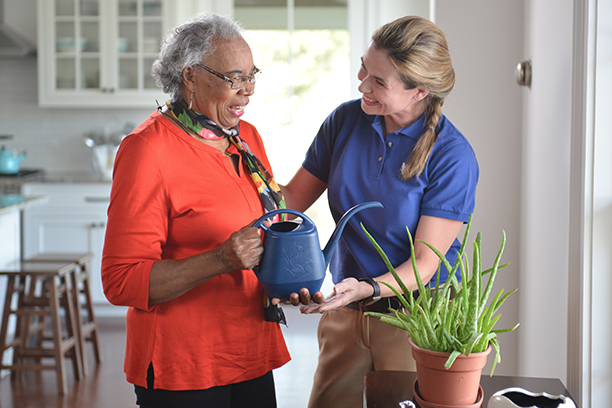 Visiting Angels Transitional Care Helps To Prevent Readmission in St. Peters, MO
Visiting Angels' Provides Transitional Care Services to Help Avoid Hospital Readmission to Seniors in St.Peters
A survey shows that about 20% of discharged elderly patients are readmitted in the hospital within 30 days after being sent home. Being re-hospitalized reduces the chances of elderly patients to recover. As the primary caregiver of your loved one, it is important that you reduce the risk of hospital readmission as much as possible.
Why Readmission Occur
Readmission can be avoided but they can still occur. Following the doctor's instructions can be easy in the hospital where the environment calls for strict conformance. However, once the patients are discharged and are recuperating at home, they are placed in an environment where it is impossible for the elderly patients to recover. Moreover, with the many tasks needed to take care of seniors, it is common for most families to be overwhelmed. As such, families need extensive outside support. This is where our transitional care comes in.
How Visiting Angels' Care Can Help Reduce Hospital Readmission
Here at Visiting Angels of St. Charles, we offer the Ready-Set-Go Home program, which is a transitional care program designed to help seniors have a successful transition at home after being hospitalized. Our care services are designed to provide support to the elderly, thus increasing their recovery rates. Our transitional care program uses a three-prong approach as follows:
Hospital care: The program starts during the hospitalization of your elderly loved ones. Our caregivers can visit your loved ones in the hospital to provide supportive services. They can also help guide the family when the doctor provides discharge instruction so that the patient will be cared for properly prior to and during the discharge.
In home care: Once the patient has been released from the hospital, our care providers can provide non-medical assistance to ensure that they are safe and comfortable during the recovery. Our care providers are skilled and trained to spot changes in your loved one's health – both physical and cognitive. They also monitor the proper intake of medication and manage different responsibilities to make the patient and their family comfortable.
At Visiting Angels of St. Charles: Our office can support your family's needs. We can help identify clients who are at risk of re-hospitalization so that we can match you to our pool of skilled caregivers who can provide elder care services.
Contact Visiting Angels of St. Charles, MO today to learn more about our care.
Serving St. Peters, St. Charles, Orchard Farm, Cottleville, Weldon Spring, and the communities of Greater St. Charles
Visiting Angels
ST. CHARLES, MO
3555 Veterans Memorial Pkwy
St. Charles, MO 63303
Phone: 636-244-3777
Fax: 636-244-3780