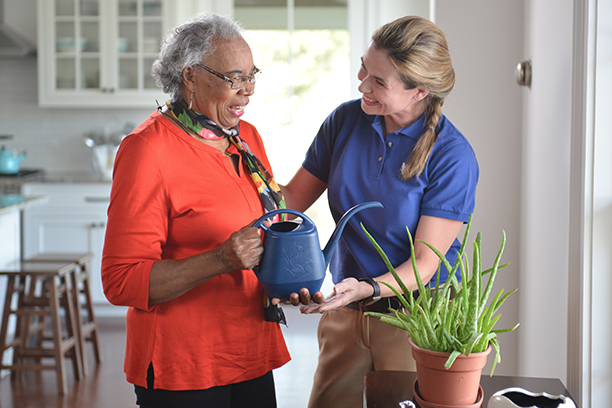 At Home Senior Care for Seniors with Alzheimer's Disease in St. Peters, MO
Visiting Angels Answers St. Peters' Alzheimer's Care and At Home Senior Care Questions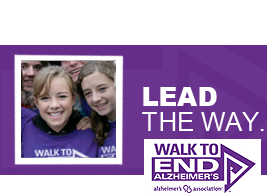 If you or a loved one has recently been given an Alzheimer's diagnosis, our at home senior care providers would like to let you know that you are not alone. For answers to the most common questions, read through our FAQ.
What is Alzheimer's disease?
Both a progressive and degenerative brain disorder, Alzheimer's disease is characterized by behavioral changes, memory loss, and cognitive decline. Over the span of a few years, symptoms tend to get worse. Presently, there are over 5 million people in America living with the disease and the vast majority are individuals over the age of 65. Typically, post-diagnosis, the average lifespan of someone with Alzheimer's, a terminal illness, is 4-8 years.
What is the difference between Alzheimer's and dementia?
Dementia is used as a generalized, umbrella term that covers brain disorders characterized by a loss of memory. Though, not all who have dementia have Alzheimer's. The truth is, all individuals with Alzheimer's do indeed have dementia. Right now, about 60-80% of people living with dementia have Alzheimer's disease.
What are the risk factors for Alzheimer's
Alzheimer's has several risk factors that scientists have identified, especially the following:
Genetics. Individuals with a family history of Alzheimer's disease are at higher risk of developing Alzheimer's themselves.
Advanced Age. In most cases, symptoms of Alzheimer's disease begin after the age of 65
Heart Health. Those with poor cardiovascular health are at risk of developing Alzheimer's disease. People with a history of cardiac arrest, stroke, hypertension, diabetes, and high cholesterol will be at higher risk of developing this condition.
What are the symptoms of Alzheimer's?
Mostly, Alzheimer's symptoms are frequently expressed through a person's thought patterns, behaviors, and speech, though there are a wide range of symptoms.
The following are the most prominent symptoms of Alzheimer's:
Acts more irrationally and is more irritable, or more depressed than usual
Mixes up the names and identities of people
Becomes disoriented about the current time or place
Loses items or becomes lost more frequently
Mixes up words or forgets them altogether
Uncommon struggles with day-to-day activities
Short and long-term memory loss
Trouble solving simple problems
How does Alzheimer's disease progress?
At the moment, researchers believe that there is a long progression period and that people who have Alzheimer's don't show signs or symptoms of the condition until later on. At first, symptoms are quite mild and tend to have minimal impact on a person's well-being. However, once the disease starts to progress, symptoms take a turn and usually go from mild to moderate to severe quite quickly. In later stages, people can lose their short and long-term memories and can no longer perform basic activities, understand speech, or even speak.
Does Alzheimer's disease have a cure?
No, unfortunately, there is no cure presently for this irreversible condition. Scientists continue their search for a cure. Yet, there are many modern treatments available to delay the symptoms of Alzheimer's and delay its progress.
What are my loved one's options for Alzheimer's care?
Usually, as the disease progresses, people start to need at home senior care that is focused on Alzheimer's. Visiting Angels of St. Charles provides specialized Alzheimer's care ensures the well-being, safety, and comfort of the individual. As the condition progresses into the later stages, it is essential to have specialized, high-quality Alzheimer's care and programs to help family caregivers.
There are two main options when it comes to Alzheimer's care. The first one is a nursing home, though this choice tends to be traumatic and stressful for the individual with Alzheimer's. Essentially, when you think of care for a loved one, this is usually a last resort when the family needs help. The second option, however, is much less anxiety-inducing, and it is Visiting Angels of St. Charles. With this kind of senior home care services, you can ensure the highest level of care for your beloved elder, all within the comforting environment of their home.
Visiting Angels of St. Charles, MO
With Visiting Angels, you get specialized at home senior care that will help your loved one, along with their unique challenges. By enlisting our at home senior care, your loved one can age in place in the safety of their own home.
Different from traditional nursing care, our specialized Alzheimer's at home senior care services are fully customizable, a personalized program that is designed with your senior in mind. The care recipient with Alzheimer's, while in the comfort of their own home, receives the at home senior care they need. Whether it's meal planning or feeding, bathing or grooming assistance, rest assured that your elder is in good hands. What's more, our care programs only enlist experienced, skilled caregivers who have extensive knowledge of Alzheimer's disease.
Call our at home senior care agency today to learn more.
Serving St. Peters, St. Charles, Orchard Farm, Cottleville, Weldon Spring, and the communities of Greater St. Charles
Visiting Angels
ST. CHARLES, MO
3555 Veterans Memorial Pkwy
St. Charles, MO 63303
Phone: 636-244-3777
Fax: 636-244-3780