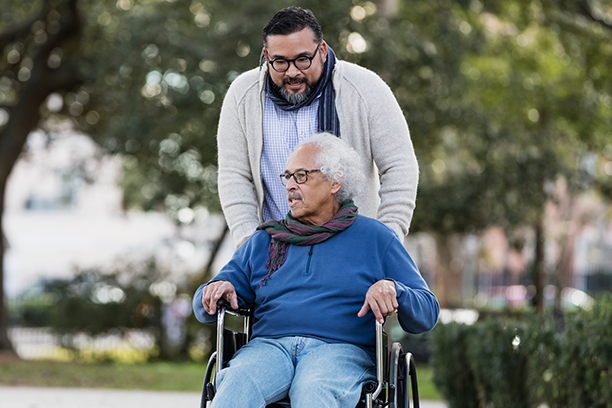 Visiting Angels Provides Family Caregivers in St. Peters, MO the Respite Care They Need
Visiting Angels Provides Family Caregivers in St. Peters With the Respite Care They Need When They Can No Longer Care for Their Loved One
It is not an easy task to take care of a sick parent or sibling at home. It takes commitment and dedication to take care of your elderly loved one at home since they need your constant focus and attention. While you are so devoted to taking care of them, there are times that you might feel tired and burned out. This is not something that you should be ashamed of.
Being a family care provider is a 24/7 hour job. It requires patience, focus, commitment, and dedication to be able to provide care and ensure that they are comfortable while staying at home. Taking a break from all your care giving duties is not a bad thing. But before you do that, you need someone–preferably a professional–to take care of your loved one while you are away. This is where respite care from Visiting Angels of St. Charles comes in.
Visiting Angels of St. Charles
The advantages of an in home respite care program is that your loved one will be matched with a caregiver who will provide them the care they need.
We provide you with the aide you need when it comes to taking care of your loved one. They provide transportation services in case your loved one needs to visit their doctors. They are also well-trained to perform chores such as shopping and preparing healthy meals for your loved one. But more importantly, they provide real companionship so that your loved one will still have a comfortable time even if you are away to take care of needs.
How to Start With the Visiting Angels
To get help from skilled care providers, just give Visiting Angels of St. Charles a call and they can match your loved one with the right care provider. Our caregivers can work with your schedule so they can work any time of the day depending on the needs of your loved ones and the entire family.
Contact Visiting Angels of St. Charles to learn more about our respite care service.
Serving St. Peters, St. Charles, Orchard Farm, Cottleville, Weldon Spring, and the communities of Greater St. Charles
Visiting Angels
ST. CHARLES, MO
3555 Veterans Memorial Pkwy
St. Charles, MO 63303
Phone: 636-244-3777
Fax: 636-244-3780