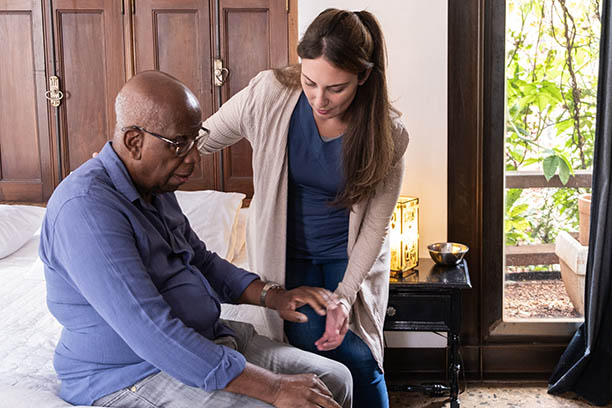 Visiting Angels Has Caregivers Trained for Certified Palliative Care in St. Peters, MO
Visiting Angels Palliative Care Improves a Seniors Quality of Life in St. Peters by Focusing on Their Physical, Emotional, Social, and Spiritual Needs
First, let's define what palliative care is all about. It is care provided to a client to enrich their life in terms of their spiritual, social, emotional, and physical needs. This is different from other types of elderly care because it does take into consideration whether the client is nearing their end of life. This is provided as long as the client needs it.
Some people interchange hospice care with palliative care, but this should not be the case because these two may have similarities, but they also are quite different. In contrast, hospice care is about end of life care. At its core, both terms are similar because the focus is on providing care to improve quality of life and relieve discomfort. Palliative care is care that does not depend on life expectancy and is focused on care that encompasses the overall well-being of the client.
With Visiting Angels of St. Charles, the goal is to provide non medical and specialized care to clients to enhance their quality of life.
Visiting Angels of St. Charles
Our approach to providing care is to assist the client in their path to recuperation as well as restoring hope. We believe in taking care of our client's needs in four areas and they are:
Spiritual needs – we believe in treating seniors with dignity and respect. We provide spiritual needs to help them find relief, comfort, and hope in their age-related issues.
Social needs – providing meaningful relationships and companionship with our client as well as building relationships with their families too.
Emotional needs – we cultivate empathy in our caregivers such that they need to be compassionate when it comes to dealing with clients. We provide compassionate care especially for those who deal with anxiety, stress, loneliness, and depression issues.
Physical needs – the physical needs are at the top of the list because this is the first issue that needs to be addressed to keep the elderly comfortable and provide relief.
Call Visiting Angels of St. Charles, MO for more information about our care and for a personalized approach to your questions.
Serving St. Peters, St. Charles, Orchard Farm, Cottleville, Weldon Spring, and the communities of Greater St. Charles
Visiting Angels
ST. CHARLES, MO
3555 Veterans Memorial Pkwy
St. Charles, MO 63303
Phone: 636-244-3777
Fax: 636-244-3780