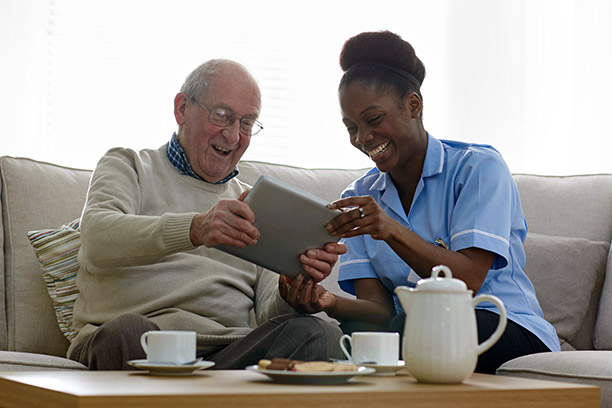 Alzheimer's Care Services in Greater St. Charles
Our Mission: To Improve the Quality of Life for Those Suffering with Alzheimer's Disease and Their Families
If your loved one is diagnosed with Alzheimer's, they may require special care and assistance as the disease progresses. Moving them into a nursing home or assisted living facility can cause them further confusion and anxiety. At Visiting Angels® of Greater St. Charles, we provide Alzheimer's care in the home, so your loved one can continue to live independently in a familiar environment.
How Our Alzheimer's Care in Greater St. Charles Can Benefit Your Loved One
Alzheimer's disease can directly affect your loved one mentally, which can then lead to physical and emotional difficulties. Our caregivers serve the St. Charles County area and are able to provide assistance for your loved one, making each day a little easier. Our care plans are personalized to directly manage the needs and preferences of your loved one and your family.
Our Alzheimer's care provides assistance with everyday tasks and much more, including:
Personal care and grooming
Medication reminders
Mobility
Light housekeeping
Meal preparation
Companionship
In addition to providing assistance with daily activities, a direct benefit of our services is the opportunity for your loved one to remain at home. Because Alzheimer's is a memory-affecting disease, it can be beneficial to keep your loved one in a safe, comfortable, and familiar setting. This can reduce their confusion and possibility of mood swings.
Utilizing our in home care doesn't mean your loved one needs to give up their daily routine. Our caregivers are very flexible in their scheduling, boasting 24/7 availability. Whether our clients require everyday assistance or bi-weekly visits, our caregivers can be there. We accommodate the needs of our clients and their family.
At Visiting Angels of Greater St. Charles, we also focus on the education of your family. We can help you understand your loved one's symptoms and behaviors, so that you are equipped to manage them on your own.
Get Started with Visiting Angels of Greater St. Charles
If you feel that your loved one could benefit from our Alzheimer's care, please contact us to set-up your free in-home consultation today. We will be happy to meet with you and begin assessing your loved one's needs.
To get started with our Alzheimer's care all you have to do is contact us and we would be honored to speak with you about our services and other resources that could benefit you and your loved one. We are your locally owned and operated senior home care agency serving the St. Charles county area that includes St. Charles, St. Peters, Weldon Spring, Cottleville, and the Orchard Farm area.
Call Visiting Angels of Greater St. Charles today!
Serving St. Peters, St. Charles, Orchard Farm, Cottleville, Weldon Spring, and the communities of Greater St. Charles
Visiting Angels
ST. CHARLES, MO
3555 Veterans Memorial Pkwy
St. Charles, MO 63303
Phone: 636-244-3777
Fax: 636-244-3780