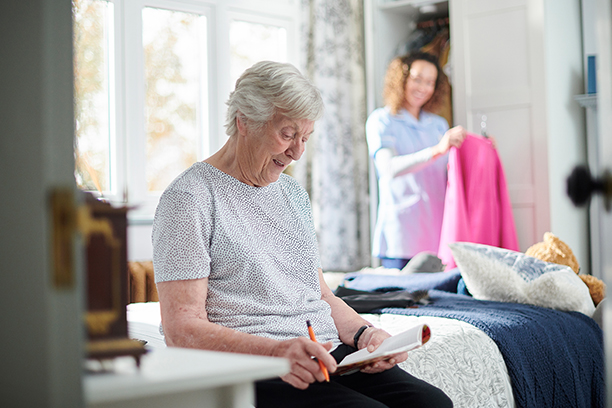 Senior Home Care Services in St. Peters, MO
Visiting Angels Provides Your Loved One in St. Peters with the Senior Home Care Services That They Need to Thrive
The Alzheimer's Foundation of America noted that there are around 5.1 million Americans suffering from Alzheimer's disease. Characterized by debilitating memory and cognitive loss, being diagnosed with Alzheimer's can be devastating. This is true not only for the patient but also for the entire family; as this condition has no known cure. Visiting Angels of St Charles, MO can provide your family with the help they need. Our senior home care services allow your family member to remain at home while receiving living assistance.
Signs of Alzheimer's Disease
As there is no known cure for this condition, it is important to detect Alzheimer's disease early. Early diagnosis allows your physician to plan the best course of action to slow down the progression of the disease. The early warning signs of Alzheimer's disease include memory loss that disrupts daily life, challenges in solving problems, difficulty in completing routine tasks, and general confusion. Patients may also experience trouble understanding spatial relationships, acute problems with speaking and writing, misplacing things, inability to retrace steps, and decreased judgment when making decisions. Withdrawal from work or social activities and sudden changes in personality are usually overlooked by family members but are also important symptoms to note.
If you notice that your loved one displaying more of these symptoms, it is important that you allow them to be evaluated by a physician. Remember that Alzheimer's is not part of the normal aging process and should not be mistaken for forgetfulness.
Coping with Symptoms
Having a loved one diagnosed with Alzheimer's can be devastating but it does not mean that there is nothing more than you can do. Learning more about the disease can better prepare you to tackle the challenges that come with caring for someone who has Alzheimer's. Once you understand what type of progression you can expect the next step is to take care of your loved one's financial, legal, and care planning needs. Visiting Angels of St. Charles' at home senior care can help. Our senior home care services team is specifically trained in how to help families who are coping with Alzheimer's and we are here to support you and answer any questions you may have. Our senior home care services can help your loved one age comfortably within their home.
Senior Home Care Your Family Needs
It is not easy being the primary caregiver for your loved one, especially those suffering from Alzheimer's. It requires dedication, time, and effort for you to be able to provide to their needs. Our senior home care services can provide you with the Alzheimer's care assistance that your loved one needs. We also provide the support that you need so that the insurmountable task of caring for your loved one will no longer be overwhelming. If you wish to hire a caregiver for your loved one, you can rely on Visiting Angels. We are committed to providing our clients with the best home care that you and your loved ones deserve.
Serving St. Peters, St. Charles, Orchard Farm, Cottleville, Weldon Spring, and the communities of Greater St. Charles
Visiting Angels
ST. CHARLES, MO
3555 Veterans Memorial Pkwy
St. Charles, MO 63303
Phone: 636-244-3777
Fax: 636-244-3780