Dementia Care Services in Weldon Spring: Tips For Making Every Day Easier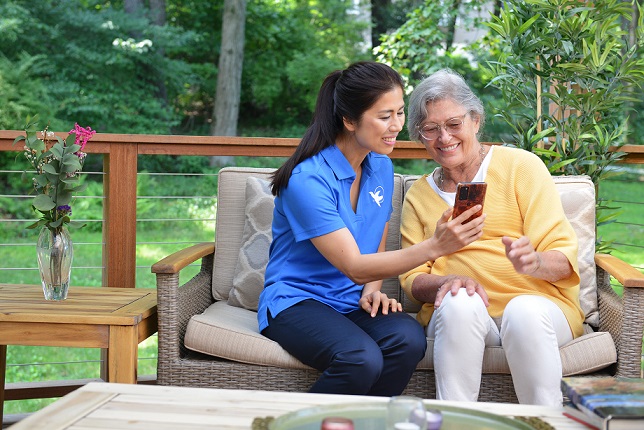 When a family member has dementia, it can be a struggle to know how to navigate every day. If you're looking after them, you may be unsure of what approach makes sense, or you may simply be too exhausted to plan far ahead. That's where Visiting Angels® Greater St. Charles can come in. With dementia care services in Weldon Spring, we're here to provide the assistance you need.
Let's review a few ways to ease the challenges you and your loved one are facing.
Helping Your Loved One Manage Dementia in Weldon Spring
Specific tips for dementia care will almost always be dictated by your loved one's condition. That said, there are some key strategies that you can always take. Here are three things to consider:
Structure. For those with dementia, routine and structure can become regular lifelines. Help your loved one set up regular, everyday routines—like having medication after breakfast, taking a walk at a certain time of day, or going to bed at the same time. As their condition progresses, having these consistent activities can help them navigate their days more comfortably. It also "automates" these important tasks, making it easier for you to remember, too.
Communication. It's not uncommon for family members with dementia to exhibit signs of anger, frustration, stress, or anxiety. These emotions can take a toll on you as well. Wherever you can, try not to match their anger or frustration—it's important to be calm and reassuring wherever you can. That said, you don't want to dismiss their feelings. You want to make sure they feel heard.
Support. Looking after a loved one with dementia can cause a lot of strain, and it's important to get as much support as possible. Consider scheduling dementia care services to help reduce some of the work on your plate. Through our senior care in Weldon Spring, we can provide respite for family caregivers, so you can take a breather and recuperate. As your loved one's condition advances, you'll need a helping hand you can count on.
Learn More About Our Compassionate Dementia Care Services
With our agency, you won't just get compassionate, flexible dementia care. You'll also have a trusted partner who can always help look after your loved one. We provide support in:
Weldon Spring
Greater St. Charles
Orchard Farm
St. Charles
St. Peters
Cottleville
And throughout the surrounding area
When you need support, dementia care services can make a world of difference. Families in Weldon Spring can just contact Visiting Angels Greater St. Charles to learn the details.