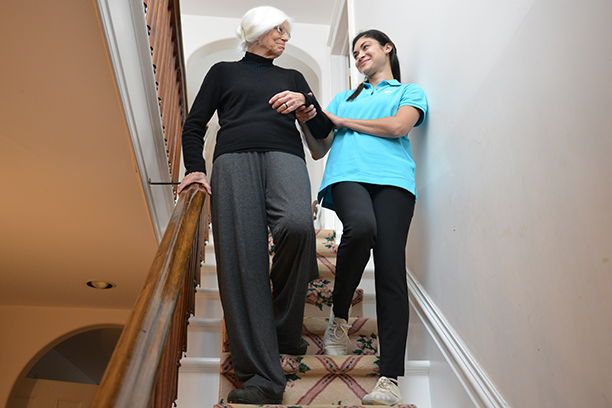 Meet the Visiting Angels Tulsa, OK Staff
Page Cole- Owner & Agency Director
Page is a former pastor of 23 years, and loves caring for senior adults. He loves all kinds of music, Mexican food, tech gadgets and he IS Batman (OK, he's not Batman, but he was Batman for Halloween in 1st grade). Page opened his Visiting Angels franchise in 2006, and 2 years later purchased an adjoining franchise. Then in 2011 he opened a 3rd Visiting Angels office in Bartlesville. In 2019 he purchased an existing franchise in SWOKC, partnering in that territory with his cousin Tracy Slopey. "When we are able to enter a family situation where there's worry about the future, and bring them options; where there is confusion and bring them helpful information, or where there's fear, and bring them peace... That's when I'm convinced that what we do is world changing & makes an amazing difference."
Page is a licensed Home Health Administrator, and has a Master's Degree from Southwestern Baptist Theological Seminary. He is married to Ronda since 1983, and has three great kids- Erin, Nate and Ben. He's also one of the authors of "Protecting Your Nest Egg: Fraud Protection for Senior Citizens from Con Artists, Thieves & Scams", "Taking Care of Mom & Dad: A Beginner's Guide to Caring for Your Parents", and "The Character Based Leader- Instigating a Leadership Revolution One Person at A Time", and the author of 9 other books. Page has also served as the chairman of the National Franchise Advisory Council for Visiting Angels, and as the Chairman of the Oklahoma Partnership for Home Care. Page is actively involved with First Baptist Church of Owasso, the Alzheimer's Association, the American Cancer Society, Hospitality House in Tulsa, and is a founding board member and the current treasurer for the Gathering on Main in Owasso. He's also the proud grandpa to 5 granddaughters and 2 grandsons, who all call him Batman!

Nathan Cole- Administrator
Nathan has worked for Visiting Angels since 2011 in both Office Management and Marketing roles. He is a crazy good dancer, and when he was little he loved Ninja Turtles and the 101 Dalmatian Puppies video. When asked what he loves the most about his job, Nathan says, "I love being able to not only help the Care Recipient, but also helping the family, by letting them BE the family by allowing our caregivers to take the load of daily work off of them. That way they worry less about doing chores and more about supporting their loved one." Nathan graduated with his Bachelor's Degree in Business at OSU Tulsa in 2014, and became the CFO for Visiting Angels in 2019. He is married to Katherine, and has one son, Arlo!
Sara American Horse- Director of Operations
Sara is from Minnesota but moved to Oklahoma in January 2018. She has worked in the healthcare field for 35 years. She worked first as a CNA, then Resident Director and finally Marketing Director. Sara truly is a passionate and honest person. The part of her job she loves the most is helping people in need. She's an incredible leader, marketer and is passionate about providing quality care to seniors in NE Oklahoma!
Jennifer York- Client Care Supervisor
Jennifer is from Willow, OK. She moved to Tulsa in 2017. Jennifer has been a CNA since 2015 but has been working in home health as an aide since the age of 19. Jennifer has extensive experience in working with memory care patients(dementia and Alzheimer's). Jennifer is the lead staff person coordinating our scheduling team and does a great job! She was raised on a farm. She is the happy mom of 4 boys, 3 dogs and 3 cats. Her kids and pets are her whole world. She also loves playing video games, watching her kids play football and basketball, riding horses and roping!
Shawna Aycock- Client Care Manager
Shawna is from Webster, Florida. She moved to Foyil, Oklahoma in 2018. Shawna has always had a passion for helping people. She decided she wanted to work in health care after helping care for her grandfather during his battle with myelodysplastic syndrome. He always wanted her to be "his nurse" when she got older. After his passing, Shawna decided she wanted to help other families, the same way she helped her grandfather. Shawna has been a CNA for 3 years. Shawna started her journey in health care in a memory care facility and then joined the Visiting Angels team as a caregiver. She is now a Client Care Manager who oversees hiring our awesome caregivers.
Cheyenne Green- Client Care Manager
Cheyenne is from Oak, NE. She moved to Claremore, OK in 1998. Cheyenne started working as a CNA right out of high school in 2014, she started working as a CNA in Tulsa area hospitals. While working, Cheyenne went to school at Rogers State University and got her degree in Psychology. Cheyenne began her career journey with Visiting Angels in Oct. 2022 as a Client Care Manager.
Serving Tulsa, Owasso, Broken Arrow, Jenks and Bixby
Visiting Angels
TULSA, OK
1532 S Peoria Ave
Tulsa, OK 74120
Phone: 918-609-5600
Fax: 866-578-2012