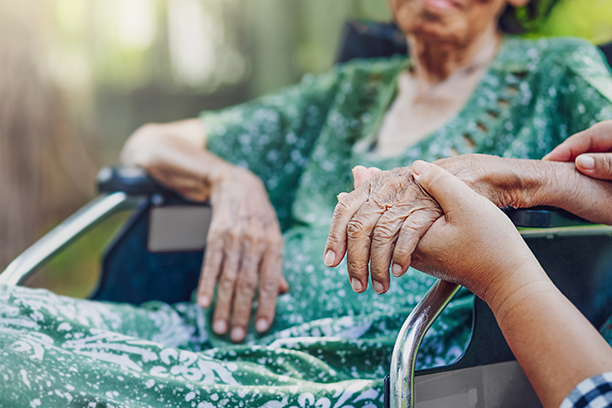 Reviews & Testimonials
The Visiting Angels caregiver that I've been using for my dad for the past few months is wonderful! Prompt and reliable, very caring and compassionate, adaptable and flexible with our needs, and has become like a part of our family. Based on my exceptionally good experience with this caregiver, I have and would recommend Visiting Angels to others.
-- Jackie K.
The caregivers have saved the client's life on several occasions. The client loves living at home and without Visiting Angels, they wouldn't be able to stay there. The caregivers are concerned for the client and they will text the family if there is a concern.
-- Richard F.
Overall our experience with Visiting Angels was excellent. The staff is very caring and professional. They try very hard to cater to the client's needs and even a little more. Mom and Dad were both cared for by Visiting Angels and enjoyed the attention and care provided.
-- Michael S.
Page and Visiting Angels were excellent in helping to care for my wife while I was at work. I could trust that they would be on time and they were very personable. A strong friendship developed between my wife and here caregiver. I am thankful for the help of Visiting Angels and when I need assistance in the future, they will be the first people I call.
-- Chris Drymon, PMP, Retired at Drymon Corporation
Page is very attentive to his clients' needs and provides great service.
-- Cathy Anello, Sec/Treasurer at Anello Productions, Inc.
Page is great to work with, very caring always concerned of my needs and thinking ahead to make sure everything is in order. I highly recommend for them for any task!
-- Alicia Cabal, Client
Visiting Angels was a life saver for my family and I. When my parents both became sick at the same time, I didn't know what to do. As my brother and I began praying, I felt the Lord telling me to talk to Page. His response to our situation was amazing. He had girls that could start helping me care for my parents immediately. His employees were very professional, as well as loving. I highly recommend the Visiting Angels Organization. Give Page a call, and he will give you your life back, with the assurance that your loved ones are well cared for.
-- Rhonda Koelsch, Realtor at Keller Williams Realty
I've known Page for about 8 years. He is a man of integrity and caring. He gave us many options when we were looking at possible care choices for my mother. Her illness progressed so quickly however that we just had to put her in a nursing home and we never got the opportunity to work with Page. I would however consider Page and Visiting Angels as a first option for elder care if the patient is able to be at home.
-- Billy McDonald, Stationary Engineer at University of Tulsa
Page customized a program of care for my mother through his company, Visiting Angels. He did what he said he would do, as well as, giving me ideas to help me make decisions concerning my mothers' care. They cared for my mother very well. Thank you to Page and staff!
-- John Cash, Owner, Trails End BBQ
Page is one of those people that you are blessed to know. He is always willing to lend a hand or an ear when there is a problem. I have known Page for many years and when I need an answer or help with anything I don't hesitate to call because I know he has either done it, going to do it or knows how to do it. He is a very genuine and trustworthy person that I wish lived closer to me.
-- Stephen Novak, Owner, Visiting Angels Sterling Heights, Troy and Port Huron MI
Taking care of seniors in the West Valley and providing peace of mind for their families. I have been associated with Page Cole through Visiting Angels for some time and have found him highly professional and possessing a passion for helping senior citizens and their families with the myriad of issues facing this demographic. In the Tulsa metro area Page Cole and his Visiting Angels franchise are THE choice for in home senior care and they stand above the competition.
-- Michael Simpson, Director, Visiting Angels
Page is an extraordinary individual. He has a multi-faceted approach to accomplishing each life goal is gifted in the area technology and communication. As a business owner and home care professional, his perspective of care and family support has influenced hundreds of families in his area as well as fellow franchisees garnering great experience from him. When I've had a question on melding business with integrated marketing, Page has a great handle on it. It's been a great 8 years of knowing him.
-- Dave Ritterling, VP, Development-Visiting Angels-Living Assistance Services (Home Care Franchisor)
Page has been a business associate and friend of mine for several years. I have found that his integrity is something that runs through all facets of his life. From personal life to his business, Page exemplifies honesty and forthrightness.
-- John Roehrig, Owner, Visiting Angels- Helping your elderly loved ones stay in their own homes!
Page is very passionate professional whom seeks delivery of the best homecare services in Oklahoma from his agency. Page is a great leader that offers inspiration to those that surround him. Page is persistent in finding excellence and diligent in finding the right outcome that he desires. Page will seek resources to help him in finding the right solutions and is not...more
-- Debra Desrosiers, Director of Visiting Angels in NH
Page has done an outstanding job of building a fine Visiting Angels agency. All the while, striving to continue the integrity for which Visiting Angels is known. I highly recommend Page as a compassionate owner within our organization.
-- Dave Plank, Nat Dir of Business Development at Visiting Angels
I have had the blessing of knowing Page for many years. Not only is he a man of passion and purpose, he is also a man of integrity. His work with visiting angels continues to be a tremendous asset to people all over the Green Country area. I am thankful for his love for the Lord, his heart for his church and his leadership in our community.
-- Chris Wall, Senior Pastor at First Baptist Church - Owasso Oklahoma
I highly recommend Page Cole. First of all, he is a man of integrity. He operates without masks. He works for the true best in others. He is committed helping others make the world a better place. Page will tell it like it is and he will go the extra mile to help. He operates his business this way too!
-- Mike Henry Sr., VP, PMO
Page Cole is a man who is committed to the age old, but proven philosophy of taking care of your customers. Page and his staff exhibit the character qualities of honesty, integrity, and loyalty. His home health related service is carried out in a way that not only insures compassionate, loving care, but also a commitment to quality service for his clients and their families.
-- Rickey Hayes, CEO at Retail Attractions, LLC
Page Cole is a caring and concerned individual. He has demonstrated many times his compassionate leadership. He is a business manager with clear vision, integrity, dedication and humility. Page possesses a sense of humor that allows him to be an effective administrator who energizes those around him. Page Cole is not afraid to roll up his sleeves and work for the good of those in his care.
-- Norma Ragsdale, Classroom History Teacher at Sapulpa Public Schools
My name is Allen Terrill. I have known Page Cole for at least 10 years. During this time, I have had the opportunity to know Page on both a personal and professional level. He has proven himself to be both trustworthy and loyal. His kindness is exceeded only by his cheerful attitude and can do spirit! Page has been successful both in the business world and in his personal life. He is a generous man with a giving heart. I know for a fact that Page cares very much about people. I would highly recommend Page Cole for any endeavor you might be involved in. He is a man that I look up to and have great respect for.
-- Allen Terrill, Terrill Process Service Inc.
Page is both a big picture thinker, who can go "out of the box" to get things accomplished as well as being able to also focus on the details of the "how" issues involved in accomplishing a task. He is a quick learner, and remains easy to get along with, even under highly stressful situations.
-- Julie Lackey, Sr. Associate/Director of Interior Design at MATRIX AEP; Founder LeadLearnLive
Page operates with integrity and wisdom. He has a ton of leadership experience and acumen. He gets along with people great. Would go to battle with him any day.
-- Aaron Lynn, Associate Pastor- Ministry Leadership at Wedgwood Baptist Church
My working relationship with Page was while he was a minister at First Baptist Church Owasso (FBCO), where Page rose to the level of Executive Pastor. I am a member of FBCO and as such was privileged to work with Page and observe his exceptional leadership and organizational skills. The position of Executive Pastor is junior only to that of the Senior Pastor and as such Page was entrusted with numerous responsibilities in which he excelled. Page is very energetic and possesses a positive attitude. Both of these traits are contagious among those who work with Page. He is also very compassionate and has a heart for people. Page is gifted with an enormous amount of drive which enables him to accomplish and oversee the accomplishment of every endeavor in which he embarks. With Page there are no such things as obstacles, just challenges to be met.
-- Kit Williamson, Retired at HP Hewlett-Packard (Retired)
Page is the definition of dedication and any organization with which he is involved will be a better one for having him. He is compassionate, understanding, professional and his cheerful, humorous attitude is just the icing on the cake.
-- Amy Anthony, CNS Field Sales Specialist, Upsher-Smith Laboratories
Page Cole. Just the mention of his name conjures up a plethora of thoughts and feelings- all honorable and noteworthy. Page is a person of integrity and excellent in undeniable character. "What you see is what he is". Even during the times of his mischievousness, Page is still a man of his word and deed. I had the privilege in serving as Page's collegiate minister upon his entering, then, El Reno Junior College as a freshman. Page served as President of the Baptist Collegiate Ministry. During his leadership, the Baptist Collegiate Ministry had one of its more successful years as an effective ministry on the campus. Page was never one to cower from attempting new and untried avenues of ministry. In fact, it was a challenge for me at times to "reel" him in from being too creative. However, this has been an attribute of Page's in his effective manner of influencing folks and challenging them in "reaching" for their potential. Especially in the lives of young people. Three come to my mind: One is a young lady who is married with two young children and serves as a children's minister in Arkansas; one young man serves as a head coach for a successful high school men's soccer team, married with four daughters; and the last, is a young man who has served his country in Iraq receiving the Bronze Star, Meritorious Service Award, and was wounded twice who now is serving as an Intelligence Officer in the United States Air Force. These young people had been influenced by Page at an early age. His faith, humor, positive attitude of life, and love of country molded these young people at a critical time in their lives and now they reciprocate that intentional positive leadership that had been once granted them. I know there are a multitude of young folks of whom Page has played a vital role in molding them into a person of influence, however, I can only speak to the three of whom I call my own. I consider it an honor to recommend Page in any capacity of life that enables his passion to influence in being an example of how one is to live in honoring the God he loves and serves.
-- Bobby Lipscomb, Director at Baptist Collegiate Ministry, Northeaster State University
I have known Page for over 15 years and he has consistently demonstrated that he's a caring and compassionate person. He always has a positive attitude no matter what the situation. He is one of the few individuals that I would turn to when looking for sound advice.
-- Tom Sanders, Director of Sales KMT WATERJET SYSTEMS
In my years of working with Page, he has always demonstrated impeccable character and integrity. His concern and compassion for the well-being of others is remarkable. I value Page as a co-worker in ministry and as a friend!
-- Wayne Yeckley, Engineer at Cimarex Energy
I have known Page for several years, personally and professionally. Page is a man with many fine quality traits. He is a man who is dedicated to helping others. Page is very caring and trustworthy in every respect. I highly recommend Page and the Visiting Angels.
-- Steve Cataudella, Mission Critical Hardware Specialist at Hewlett Packard
I've been around Page for the last 10 years and find him to be a great communicator and good sense about people and their wants and fears, in this particular industry. Trust is vital and He gets that across first of all. He's been at 1st Baptist during our biggest growth from app. 250 to over 1200-1500 people. He was vitally important during that stretch with his financial wisdom and personality, which also is quite unique.
-- Terry Prentice, Pres. at Aluminum Hardcoat Co.
When one seeks care for their loved ones it is of most importance to know about the person in charge of the agency. Page Cole is one that you can count on to give loving and expert care. This is a ministry, not just a job for Page and his company. I highly recommend him to you.
-- Dr. Robert Cannon, Associate Pastor Arrow Heights Baptist Church, Broken Arrow, OK.
Our family has known Page and his family for over 10 years. He's very professional, and caring with a high degree of integrity and character. His people skills are relational and compassionate for both the families and workers that he comes in contact with. He's very dedicated to serving others and a privilege to know.
-- Christi Smith, Staff Specialist II
Page is caring and compassionate, operates with the highest integrity, and strives for excellence in everything he does.
-- Keith St. Gemme, Sr VP - New Ventures, Tulsa, OK
Page Cole is a person who will work with strong personal commitment to whatever task he is assigned. He has management skills which includes his understanding of the task as fully understanding the nature of the people on his team.
-- Roy Smith, Electrical/Electronic Manufacturing Professional
Page is a very professional person. He has integrity, treats people fairly, trustworthy in every respect, and sets goals for himself to achieve.
-- Marilyn Polge, Teacher and Math Department Chairman at Owasso Public Schools
I can recommend Page Cole to you without any reservation! He is a man of integrity, vision, and when it comes to providing what is needed for his people, no one does it better than Page Cole! He is top-shelf in everything that he does!
-- Charlie Cruce, Director of Missions-Treasurer at Tulsa Metro Baptist Network
Page is an honest and caring individual with a great deal of respect for his clients and/or vendors. His prompt attention to detail and willingness to listen to each individual client is second to none. People do business with people they like and that is why I will always do business with Page!
-- Darin Garrison, Sales at HiCORP
Page brings energy and passion to everything he does. He is making a difference in Eastern Oklahoma through his business, Visiting Angels, where his company provides needed services but in a way that elevates people. He finds ways to go above and beyond and always provides more than you might ask. And his smile is contagious too. Page is growing a business of leaders serving people in our community and making a difference.
-- Mike Henry Sr., VP, PMO, Tulsa, OK
Page is a sincere, honest, Christian man who truly cares about people. I would recommend Page based on the quality of his character no matter what the task at hand. He is competent and straight-forward in his dealings with others.
-- Kelley Sanders, President, Net Gain Initiatives
I have known Page to be a man of integrity and conviction. During his tenure at First Baptist he was in a position to lend support and help to my church located in the same city and he did just that. In my association with Page He has handled himself as a professional and always taken an interest in others. Because I am in a position to "rub shoulders" with various leaders and professionals in our city one of the best recommendations I can give Page is that of our mutual friends. Those who are well acquainted with Page and his family always speak well of him. I have never heard anything but praise for the Cole family and particularly Page. No matter the subject be it his work ethic, personal character or willingness to serve others the commendation from others is always positive. It is a privilege for me to recommend Page Cole to you as a man of integrity.
-- Bill Stinson, Education/Administration Pastor at First Baptist Church
Well it really wasn't a company I worked with, but Page was on staff at 1st Baptist Owasso when we were members there for many years. He's a good guy, honest, always in a good mood, very good with people. I can see that his new business is right up his alley in working with Seniors and caring for them. I may even be his client not too far into the future!
-- Brad Johnson, Owner, LawnAmerica
I've known Page about 11 years and was among the first people we met after moving to Owasso. Page has proven himself to be loyal, caring, and genuinely concerned about people in his life. Those who know Page would agree he has great leadership skills coupled with his can-do attitude. I highly recommend Page and consider it an honor to know him.
-- Kenny Fulton, Sr Technical Training Specialist at Enterprise Products
I've had the pleasure of knowing and working with Page for a number of years. Page is a main of faith and integrity and that can be depended on when you need someone.
-- Ron Lee, Sr. Supervising Engineer at WorleyParsons
Page is one of the best managers of people I have ever met. He has the "gift" of seeing the best in people and recognizing and encouraging their strengths. And just as importantly, he is able to challenge people who are not working up to their potential and when necessary administering disciplinary action. He is great with detail without losing focus of the "big picture".
-- Randy Thomas, President at Educational Systems Products, Inc
I don't know as much about his work ethic as I do about his character. He is one fine gentleman, and one you could depend on to do the job. I appreciate his service to our area in helping to provide for the needs of numerous individuals and families.
-- Lynn Wood, Pastor of senior adults at Rejoice Free Will Baptist Church
I have had the privilege of knowing Page since he was a young man. While at Redlands Community College (formerly El Reno Jr. College), Page was an outstanding student and an exemplary leader within the student body. Page is a man of tremendous character and integrity. He has my highest recommendation for any leadership position.
-- Melvin Imotichey, Recruiter at Talking Leaves Job Corp
Serving Tulsa, Owasso, Broken Arrow, Jenks and Bixby
Visiting Angels
TULSA, OK
1532 S Peoria Ave
Tulsa, OK 74120
Phone: 918-609-5600
Fax: 866-578-2012