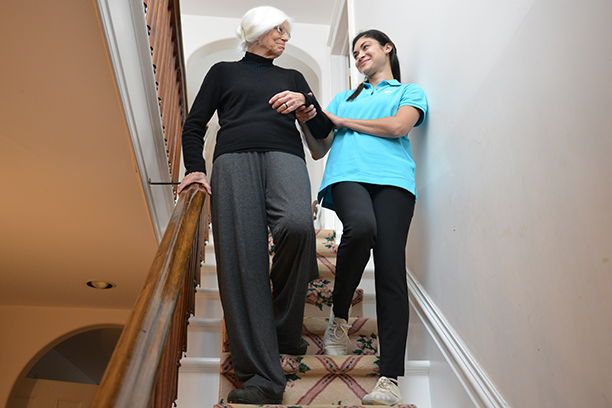 Live-In Home Care for Seniors in the Wilkes-Barre Area
Live-In Care Helps Seniors Age in Place
If your senior loved one has decided to age at home, you might be looking into different ways to support their decision. Your first solution might have been to become your elderly loved one's caregiver. While caring for an aging loved one can be rewarding, it can also be challenging.
Family caregivers often have various responsibilities to take care of in their day-to-day lives. If your senior loved one needs support with tasks throughout the day, you might find it difficult to provide them with the assistance they need. There is another solution that could provide your aging loved one with the care they need as they age at home.
You can consider working with a home care provider. Visiting Angels Wilkes-Barre offers various home care services including companion care, palliative care, dementia care, 24/7 care, and live-in care. For seniors who need extra support in their daily lives, live-in care is a great solution.
What is live-in care?
Live-in care is when a professional Visiting Angels caregiver stays in an elderly client's home, day and night, to provide the needed care. A live-in caregiver is expected to follow the client's care routine.
It is also important to understand that live-in caregivers do not work 24/7. Often, one caregiver will work during the weekdays. Then, during the weekends, another Visiting Angels caregiver will take over and continue to care for the elderly client. Furthermore, no matter the day, a professional caregiver must receive an 8-hour break every 24 hours, have access to a bed, and they must get at least 5 hours of sleep.
Is Live-In Care Right for Your Loved One?
Deciding on the right type of home care for a senior loved one can be tricky, but it is not impossible. Remember to take your aging loved one's needs into consideration when looking for a home care provider and service. You can ask your loved one questions like:
At what time of day or night do you need the most help?
What tasks do you struggle with?
What would you like your caregiver to help you with?
Talking with your loved one about the idea of hiring a Visiting Angels caregiver can help you find the best type of home care for your loved one.
Getting Started with Visiting Angels Wilkes-Barre
Not all Visiting Angels offices offer live-in care services, but our office does! If you would like to learn more about our live-in care services send us a message today or call us at 570‑270‑6700. Visiting Angels Wilkes-Barre is here to help!
Serving Wilkes-Barre, Forty Fort, Mountain Top, Dallas, and surrounding areas | Luzerne, Columbia, Wyoming, and Lackawanna Counties.
Visiting Angels
WILKES-BARRE, PA
920 Wyoming Ave #102
Forty Fort, PA 18704
Phone: 570-270-6700
Fax: 570-270-6706