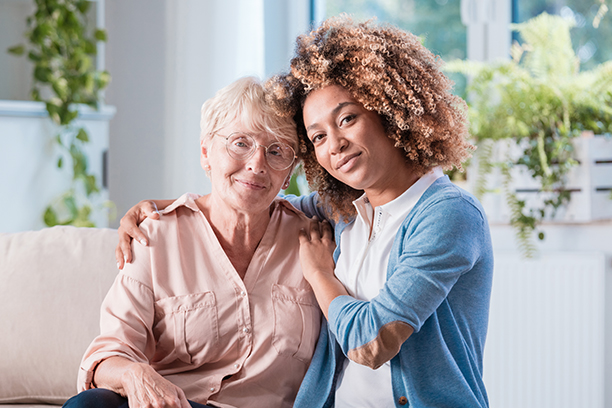 Why Visiting Angels Live-In Care?

Elderly and disabled clients benefit from a single caregiver being present day and night in the comfort of their own home.
•Lower Cost: A considerable amount of money can be saved by using a single Live-In Caregiver when compared to or living in a Skilled Nursing Facility or 24 hour care with changing shifts in the home.

•
Easy Transitioning
:
The live-in program is ideal for a patient recovering from injury or illness as it avoids the nervous periods during shift changes.
•
Better Communication:
The care recipients' family members enjoy talking to a single caregiver when they call for updates in their loved one's health.
•
Consistent Care and Greater Reliability:
Live-in relationships involve greater
bonding between the care providers and their patients.
•
Specialized Live-In Care training for caregivers
•
Specialized Care Plans for the client
•
Dedicated Client Care Supervisor:
Joy Kennedy LPN, is dedicated to managing
the Live-In Care Program for smooth transition.
Duties of Live-In Caregivers-
•
Companionship and socialization
•
Assistance with Activities of Daily Living
•
Meal Preparation, shopping, appointments, and transportation
•
Communicating with family members and often the rest of the medical team.
Live-in care can be paid for by private resources paid by the client. Medicaid can assist with Live-In homecare cost based on your financial and physical needs. Medicaid Waiver programs include Aging, Independence, Attendant Care and others. Veterans Long Term Care Insurance and other Life Insurances may help with payment.
Call Today! Luzerne and Columbia County 570-991-6672
Lackawanna and Wyoming County 570-800-5270
Serving Wilkes-Barre, Forty Fort, Mountain Top, Dallas, and surrounding areas | Luzerne, Columbia, Wyoming, and Lackawanna Counties.
Visiting Angels
WILKES-BARRE, PA
920 Wyoming Ave #102
Forty Fort, PA 18704
Phone: 570-270-6700
Fax: 570-270-6706