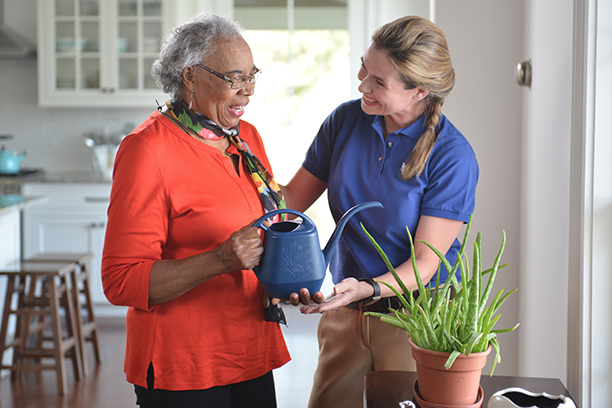 Hygiene, Grooming and Bathing Assistance for Seniors in Bridgeport, WV and Surrounding Areas
Personal Home Care with Visiting Angels of Bridgeport, WV
Seniors typically like to age in place, even if they live with physical disabilities or a chronic health condition. When this is an issue, family caregivers often turn to agencies that offer personal home care (or private duty care). Personal home care is a type of home care that assists with unique activities, such as dressing, bathing, and mobility. When seniors receive this kind of care, they may worry that they will lose their independence-- that is not the case when they are getting care from a Visiting Angels Bridgeport caregiver.
Visiting Angels Bridgeport knows how important and beneficial it is for seniors to age in the comfort of their own homes. When seniors are concerned about losing independence or struggling with everyday tasks, they can reach out to our office to get the care they need to age on their terms.
What Is Personal Home Care?
The most commonly requested care we offer is personal home care; this is designed for seniors living with chronic health conditions, physical disabilities, or difficulties with strength, coordination, and mobility. It's usually offered alongside a combination of tasks and activities designed to ensure the individual's safety, comfort, and well-being.
Visiting Angels Bridgeport caregivers have the skills necessary to facilitate these kinds of services. They are also able to help with mobility and transfer assistance.
Our care providers are also there to assist with other tasks, such as errands, meal preparation, light housekeeping, medication reminders, and other routine activities.
Personal Caregiving vs. Companion Caregiving
Families seeking senior home care for a loved one tend to be confused about our different types of care services. The two most confusing services for families are personal care and companion care, which are also two of the most common types of in-home care.
There is one main difference between the two: the assistance with daily activities and any other caregiving tasks that direct physical service. Personal care providers assist seniors with immediate physical assistance, alongside helping with other caregiving duties. Companion caregivers can only assist with errands or light housekeeping-- they cannot assist with daily activities or any other tasks involving physical assistance.
When family caregivers choose between the two types of personal home care services, we suggest that they use personal care services if their loved one requires direct physical assistance. This is also indicated for seniors needing help with care for a chronic health condition, such as diabetes or dementia. If the senior doesn't require care that requires direct contact, we then offer companion care services.
Ready to get started with personal care?
Visiting Angels Bridgeport is waiting patiently to hear from you! CONTACT US to learn more about our personal home care services.
Serving Harrison, Taylor, Barbour, Upshur, Lewis, and Marion Counties, West Viriginia
Visiting Angels
BRIDGEPORT, WEST VIRGINIA
212 Newton St
Bridgeport, WV 26330
Phone: 304-470-4631
Fax: 304-842-1180