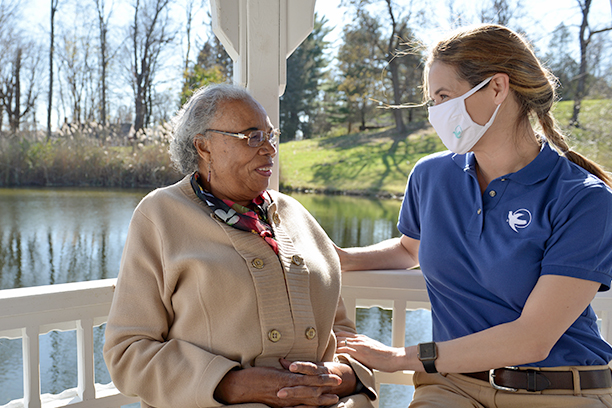 Home Care in Clarksburg, WV
Aging gracefully from home can be a daunting task and Visiting Angels of Bridgeport is here to help. We realize how important it is that your loved ones be able to remain in the comfort of their home, regardless of their medical conditions, which is why we provide personal home care services to assist seniors in Clarksburg, WV. Our caregivers take care of daily activities in and outside the home to keep everything running smoothly and your loved ones in good hands. If you have a loved one who could benefit from this type of care, please do not hesitate to reach out to us!
Visiting Angels of Bridgeport offers fully customizable home care services so that your loved one gets exactly what they need when they need it. We will work with your family to create a personal senior care plan that is tailor-fit to the needs of your loved ones. Whether it be stopping by for a few hours each week to 24-hour personalized home care and companionship.
We offer a variety of services to our clients, from physical assistance with bathing, dressing, and running errands to emotional and spiritual support through conversation and companionship. No matter how big or small the need, we are here to help
Our caregivers strive to improve the quality of life for their seniors and connecting with them on a personal level to do so. They often share stories over card games or walking around the neighborhood and acting as an active listener for those who may be lonely.
Caregivers can accompany seniors to Valley Falls State Park to relax and enjoy the local wildlife. If the weather is less than optimal than perhaps they can check out the local art gallery at Artworks to explore their unique and diverse pieces of art. If seniors are looking to spend time with their grandchildren than a trip down to the local Splash Zone may be just what the doctor ordered. Seniors can relax in the pool while watching their grandchildren play nearby.
Whatever the occasion, seniors can count on Visiting Angels caregivers to provide safe and reliable transportation throughout the day!
Schedule your Free In-Home Assessment Today
Schedule your free in-home assessment today by contacting Visiting Angels of Bridgeport at 304-470-4631.
Serving Harrison, Taylor, Barbour, Upshur, Lewis, and Marion Counties, West Viriginia
Visiting Angels
BRIDGEPORT, WEST VIRGINIA
212 Newton St
Bridgeport, WV 26330
Phone: 304-470-4631
Fax: 304-842-1180