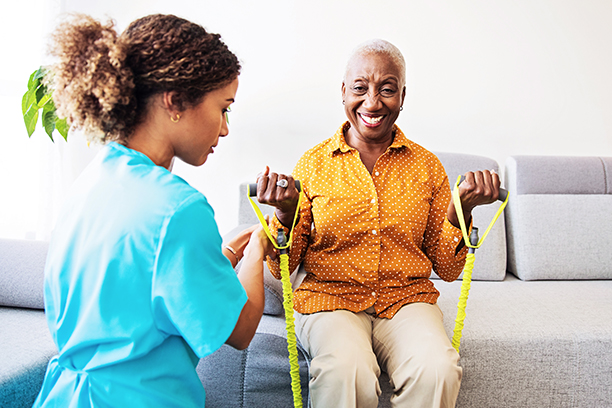 Elderly Companion Care
Elderly Companion Care in Doylestown PA
Making the choice to find help for your mom or dad isn't easy. You want to be the one who helps them with all their needs, but you just can't make it work anymore. You have a job, children, obligations, and responsibilities that are pulling you in a hundred different directions. You just aren't giving a 100% to anyone and you are frazzled. You are not alone. If your parents need help, call Visiting Angels Doylestown PA for elderly companion care services.

Visiting Angels Doylestown PA provides families in Montgomery and Bucks Counties with the assistance they need. When Mom or Dad needs help, but still wants to live at home, elderly companion care services are the solution. Elderly companion care services provide the bridge between independent living and moving to a retirement center. With elderly companion care services from Visiting Angels Doylestown PA, your loved one can remain at home and continue enjoying their regular schedule of activities. They just get a little help along the way.
Our elderly companion care services can include a wide variety of tasks. Some of the most common include:
Assistance getting to appointments and activities
Help with shopping and running errands
Light housekeeping
Meal preparation
Medication reminders
Grooming assistance
Each of our clients receives a custom care plan that addresses their needs making it possible for them to receive just the right amount of assistance each week. Our caregivers are available throughout the day and week making it easy for your loved one to have help when they need it.
One of the greatest gifts you can give your loved one is the gift of comfort and security. Elderly companion care services from Visiting Angels Doylestown PA make it possible for your loved one to live happily, safely and confidently in their home. They can enjoy their favorite activities and keep their schedule. You get the peace of mind that comes with knowing they are well cared for.
You don't have to manage it all alone. Visiting Angels Doylestown PA has the expert caregivers on hand that can help you. Call our office today to learn more about elderly companion care services.
Free Classified Advertising
- Reach thousands daily! Always free!
We provide free classified advertising, free categorized link exchange directory, and free banner tools!
Serving Bucks County Pennsylvania
Visiting Angels
DOYLESTOWN, PA
3617 Route 202
Doylestown, PA 18902
Phone: 215-345-9600
215-362-1100
Fax: 215-230-9226