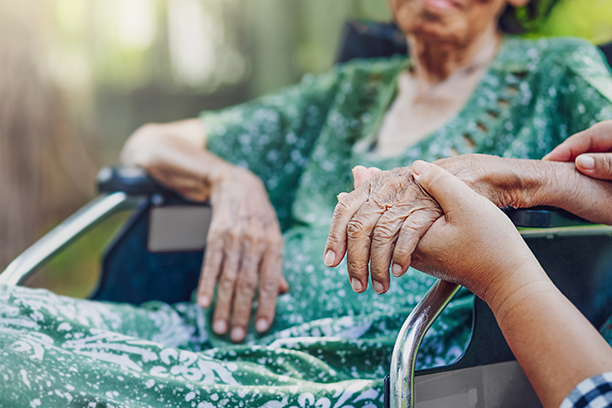 Visiting Angels in the News
SuburbanLife Magazine 2011
by Jennifer Updike
Some people love dogs or cats. Others are drawn to dolphins or butterflies. If you ask Jacqueline Mekanik, she has always had an affinity for angels.
So when the pediatric nurse decided she wanted to become a business owner in a field that blended her caring personality with her burgeoning entrepreneurial ambitions, she and her husband, Steve, knew exactly where to turn: Visiting Angels.
"Jacqueline is still licensed as a nurse in New Jersey and Pennsylvania, and I have a background in business and accounting," says Steve. "We had the business experience with me and the loving, caring experience with Jacqueline's training as an R.N., so it was the perfect business model for us."
The link was practically serendipitous. Through the Mekaniks, Visiting Angels of Doylestown provides nonmedical home health-care services to locals, including personal hygiene, bathing, light housekeeping, errands and shopping, doctor's visits and companionship. Visiting Angels, whose corporate office is based in Havertown and has more than 400 franchises across the country, is bonded and insured, and the company runs full criminal background checks and child-abuse checks on every employee.
"We provide the best customer service and strive to keep the client at home as opposed to going into a nursing home," says Steve. "We have the backing of a multimillion-dollar company, which gives us the tools we need to be there around the clock for the people who need us. From the very beginning we were blessed to have the startup and support we needed to succeed on behalf of our clients and their families."
Now entering their 10th year in the business, the Mekaniks have expanded their business to proudly serve as many as 100 families per week throughout Bucks and Montgomery counties. The services they offer provide life-changing benefits—helping seniors stay at home and maintain their independence, while at the same time giving family members the comfort of knowing their loved ones are being taken care of by experienced professionals who truly care.
"It's for seniors—Mom or Dad, Grandmom or Grandpop—in need of nonmedical assistance," says Steve, an accountant by trade. "We do a lot of work on the Alzheimer's side, and we also do a lot of work with the Multiple Sclerosis Society as well as government work with veterans. Our model is straightforward: comprehensive, around-the-clock service that is also affordable, as we're one of the less expensive options out there."
Most of the approximately 100 caregivers who work for the Mekaniks have worked with the company for years and have a background in caring for seniors. Through these caregivers, aging loved ones can maintain the independence of their daily routines in familiar surroundings. This is critical because a senior can undergo intense emotional trauma as a result of having to leave a cherished home. Such services can also help seniors cope with dementia-related illness and provide the respite care that has become so important for the family.
Visiting Angels strives to make staying at home a positive experience. In doing so, the company enables clients to select from a group of experienced caregivers, thereby allowing recipients and their families to maintain their schedules with personalized care. A client is in charge of everything as it relates to scheduling so seniors can decide what time to get up, when to bathe, when to eat, etc. Visiting Angels continuously monitors its caregivers using a carefully crafted system of contacts through telephone check-ins and home visits to ensure that recipients receive the best possible care.
Visiting Angels understands that different people have different needs—whether it's part-time or full-time care, at home or in an assisted-living facility. As such, the company tailors care based on the needs of the recipients and their families, yet it is flexible enough to change the program as one's needs evolve. The company accepts long-term-care insurance as well as private pay, with rates that Steve Mekanik describes as "very competitive."
Constant Coverage
For many people, growing old can be as taxing on a loved one's family members as it is to the aging person—especially if Alzheimer's disease or a similar ailment is involved. After an initial diagnosis of Alzheimer's or a related illness, families are often faced with the challenge of deciding how to care for an elderly loved one. Because many adult children work full time and have children of their own to take care of, families struggle with new stresses and new challenges to the so-called work/life balance. This can be further complicated when families are separated by long distances.
In such delicate matters, Visiting Angels can help. As part of a collaborative relationship formed by Visiting Angels and the Alzheimer's Foundation of America, the company has become the first national nonmedical senior homecare provider in North America to offer an AFA-sponsored training and qualification program for caregivers who assist individuals with Alzheimer's disease and related illnesses. Working through the Dementia Care Professionals of America, Visiting Angels can train and qualify selected caregivers to provide service to individuals and families trying to cope with this disease.
"We're not going to take the place of a family member, but we can provide constant and steady coverage for a family," says Jacqueline. "The service we offer gives family members peace of mind so they can get on with their daily lives and routines, and their loved ones can stay safe and taken care of in their home."
Visiting Angels Senior Care
Serving the Doylestown Bucks County PA to Lansdale Montgomery County PA communities with Senior Homecare by Angels®.
3617 Route 202,
Doylestown, PA 18902
215-345-9600
www.visitingangels.com/doylestown
Serving Bucks County Pennsylvania
Visiting Angels
DOYLESTOWN, PA
3617 Route 202
Doylestown, PA 18902
Phone: 215-345-9600
215-362-1100
Fax: 215-230-9226