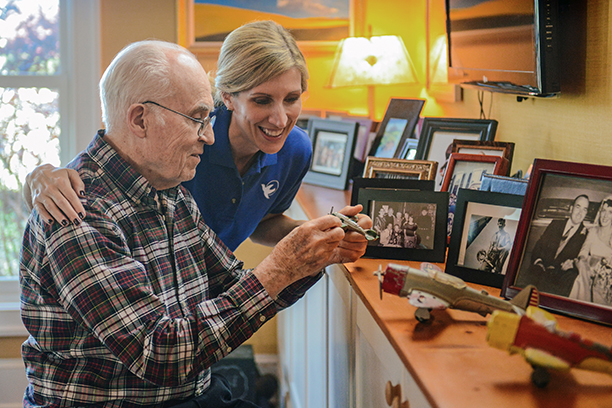 Frequently Asked Questions About Quality Home Care Services from Visiting Angels East Bernard
Here are answers some of the most common questions about the quality home care services we provide in East Bernard, Wharton, El Campo, Katy, Fulshear, Columbus, La Grange, Rosenberg, Columbus, Victoria and the surrounding areas of Southeast Central Texas
Getting Started
It can be difficult to know for sure if your loved one could benefit from professional. Some signs to look out for include:
They begin wearing the same clothes multiple days in a row or their clothes look dirty
Their house is full of clutter and unclean
They start avoiding gatherings with friends and family
They're showing significant weight loss
They start showing bruises and scrapes on their body
They're starting to struggle with everyday tasks like making meals and taking out the trash
Generally, our caregivers can begin providing quality home care services within a 48-hour period and often the same day.
Visiting Angels East Bernard provides a live On-Call system in order to give families around-the-clock access to our office staff. If you have an issue that must be addressed immediately, you may call the office at any time, including after hours. You can leave a message in the on-call voice mailbox. You will receive a call back within 15 minutes by one of our office staff, guaranteed.
Please keep in mind that this is not an answering service; you are getting direct access to staff members who are familiar with your case. We are committed to serving your needs in a way that is most convenient for you.
If you have questions about getting started with our quality home care services, we recommend calling between 9 am and 5 pm.
Simply call our office to get started. We will have our staff come to your home and conduct a free, no obligation assessment. We will then, at your direction, identify caregivers who have the skills, personality and availability to assist you. You will then be able to meet the caregiver, and if you approve, they will begin working for you.
About Visiting Angels East Bernard
Yes! All Visiting Angels offices, including our East Bernard office, are required to be licensed by the state.
Visiting Angels East Bernard is one of the leading providers of senior care in Southeast Central Texas. The clients in our care receive top-quality service from professional caregivers who are dedicated to building long-lasting bonds with the seniors in our care.
Visiting Angels East Bernard provides companion care and personal care services. Our quality home care services are designed to provide assistance with those activities that elders need help with in order to be able to stay at home safely and with dignity. Our senior care services may include fall prevention, medication and fluids reminders, light housekeeping, grooming or bathing assistance and running errands.
Yes, incidental transportation is one of the services we provide! We can match you with a caregiver that can drive your loved one to wherever they need to go. This is an ideal solution for seniors who need to get to medical appointments or run errands but are unable to drive themselves due to vision or cognitive issues.
About Our Caregivers
All of our caregivers are W2 employees of the agency. Our office handles scheduling, payroll and more so your family can have peace of mind.
Each caregiver on our team has undergone an intensive screening process prior to joining our agency. They undergo various background tests, interviews and personality checks. We require multiple references and proof of experience to make sure they're the right fit for the job.
Yes! One of the benefits of choosing Visiting Angels East Bernard for quality home care services is that you can be sure that the caregiver who works with your loved one is licensed and bonded.
We do our best to keep consistency in scheduling, caregivers and services. If your loved one's main caregiver is unavailable for a certain shift, we have many amazing caregivers on our team who are able to help.
While we take a lot of time and effort in helping you pick the perfect caregiver, there's always a chance that your loved one will feel more comfortable with a different caregiver. You can contact our office to make any changes, including choosing a new caregiver.
Costs
Our rates are hourly and depend on the services your loved one needs. With Visiting Angels East Bernard, families can customize their loved one's care plans. That way, you can be sure your loved one's care plan fits their needs and budget.
Since we are a private pay caregiving agency, government insurance programs such as Medicaid and Medicare do not cover the costs of our services. However, most Long-Term Care Insurance policies can cover the costs of our services.
Logistics
We have caregivers that are available 24 hours a day 7 days week. During your initial consultation, we will work with your loved one to find the right caregiver based on scheduling needs so they can receive the support they need when they need it most.
Schedule changes are easily accomplished with as little as one week notice. Our philosophy is to make the schedule work for the family, not the agency. You come first. Your needs, your requests, your schedule. We will do everything possible to make sure the schedule you want is the schedule you get.
Yes. People sometimes discover that the assistance provided in an assisted living facility is not sufficient to enable them to remain independent. In these cases, our caregivers can provide supplemental senior care in residential facilities. In some states you are allowed to hire private help in an assisted living facility – or nursing home.
We provide quality home care services to seniors in East Bernard and surrounding communities throughout Southeast Central Texas, including Wharton, El Campo, Fulshear, Columbus, Victoria, Katy, La Grange, Rosenberg, Sealy, Giddings, Brookshire and nearby areas. If your loved one lives outside our service area, please contact our office. We may still be able to provide the care they need or refer them to a nearby Visiting Angels office.
Have more questions? Contact our East Bernard, TX office today. Our team will be happy to help!
Serving East Bernard, Rosenberg, Wharton, Katy, Victoria, La Grange, Columbus, Fulshear, El Campo, and Surrounding Areas in Southeast Central Texas
Visiting Angels
EAST BERNARD, TX
704 Church St #A
East Bernard, TX 77435
Phone: 979-335-4025
Fax: 979-335-4121