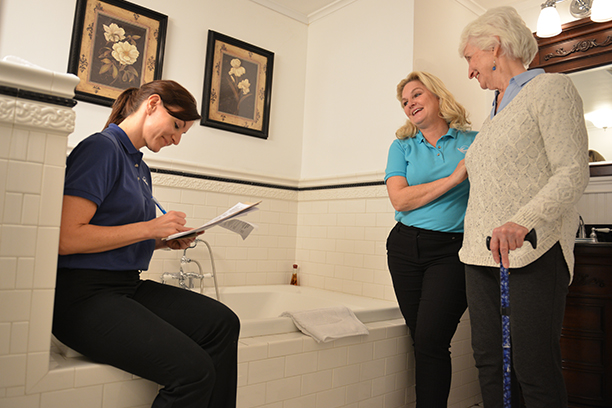 Long-Term In-Home Care for the Elderly in East Bernard, TX
With long-term in-home care for the elderly from Visiting Angels, even seniors with advanced care needs in East Bernard, Wharton, El Campo, Fulshear, Katy and surrounding areas in Texas can age safely at home
Over the years, seniors often develop chronic conditions and other illnesses that make everyday tasks challenging. Even the most basic activities such as walking from room to room, cooking, bathing, or putting clothes on become difficult. These are even more complicated for older adults with Alzheimer's and dementia.
If your loved one needs some level of assistance but doesn't want to move to a nursing home, do not worry! With long-term care at home from Visiting Angels East Bernard, your parent will receive assistance they need in familiar surroundings. Our caregivers will make sure they have everything they need to remain happy, active, comfortable and safe in familiar surroundings. With our personalized one-on-one approach to senior care, managing their symptoms will become a lot easier for your elderly loved one.
What Does Long-Term In-Home Care for the Elderly from Visiting Angels East Bernard Include?
Aging at home is easy with our long-term care services. Our custom-tailored care plans can include everything from meal planning and preparation, assistance with bathing, grooming and dressing, and mobility assistance to transportation, light housekeeping, medication reminders and meaningful companionship.
Our caregivers can help your aging parent with managing symptoms of their diagnosed conditions sticking to a healthy routine.
How Can Long-Term Care Help My Loved One?
There are so many ways long-term in-home care for the elderly from Visiting Angels East Bernard can benefit your loved one. In case they struggle with a chronic condition, our caregivers can help them manage their symptoms and stick to a healthy lifestyle. Seniors with memory and cognitive illnesses such as Alzheimer's or Parkinson's can receive specialized care that will ensure their safety and wellness and prevent falls and wandering. In case your loved one is receiving in-home treatment for cancer our caregivers can help them with everyday tasks that have become too difficult due to their condition. In addition, our in-home senior care services help older adults with mobility issues stay safe at home.
How Can My Loved One Afford Long-Term Care?
We understand that long-term care at home might be expensive for some families. However, there are ways you can cover the cost of long-term in-home care for the elderly. The best way to do it is through long-term care insurance. If your aging parent already has such policy, make sure you are fully aware what type of care it covers.
If you want to learn more about long-term care from Visiting Angels, please get in touch with our East Bernard, TX office today.


Serving East Bernard, Rosenberg, Wharton, Katy, Victoria, La Grange, Columbus, Fulshear, El Campo, and Surrounding Areas in Southeast Central Texas
Visiting Angels
EAST BERNARD, TX
704 Church St #A
East Bernard, TX 77435
Phone: 979-335-4025
Fax: 979-335-4121