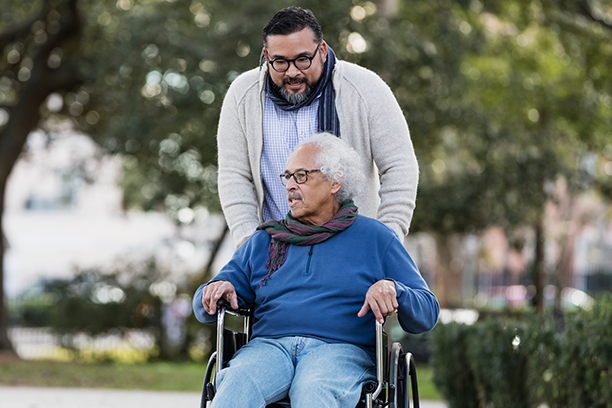 Specialized In-Home Memory Care for Seniors in East Bernard, TX and Surrounding Areas
Dementia care from Visiting Angels helps seniors in East Bernard, El Campo, Fulshear, Katy, Rosenbergm Columbus, La Grange and Wharton, TX stay safe in their own homes while getting the support they need to manage their symptoms
When a loved one is diagnosed with dementia, they will need additional support in order to stay safe, happy and comfortable. A common misconception is that seniors with dementia should move into a nursing home or an assisted living facility to ensure they receive professional care and support. In reality, living at home in familiar surroundings is actually a better option.
With dementia care from Visiting Angels East Bernard, your loved one can maintain their independence while getting the care they need. We've worked with many seniors throughout East Bernard, Wharton, El Campo, Katy, Fulshear, Victoria and surrounding communities in Southeast Central Texas to create personalized care plans to help them manage their symptoms.
How In-Home Dementia Care Can Help Seniors in East Bernard and Surrounding Communities
Dementia is a disease that causes severe changes in the brain. Most forms of dementia, like Alzheimer's disease and Lewy body dementia, can cause memory loss and confusion. Seniors with dementia also have difficulty concentrating, learning new things and even speaking. Seniors with certain types of dementia can also experience frightening hallucinations and disorientation. Some symptoms will also manifest themselves physically; those with advanced Parkinson's disease will tremble or have trouble with walking and many dementia patients have trouble with wandering. Overall, dementia symptoms can cause seniors to feel depressed, confused and agitated, which is why it's so important for them to get specialized dementia care.
That's why we offer care plans for seniors with memory-related illnesses that are both personalized and flexible. No matter what kind of dementia your loved one has, we'll work with you to create a care plan that includes the home care services they truly need. As your loved one's disease progresses over time, we can work with you to make any needed adjustments to their care plan. That way, we can help them stay safe and comfortable for years to come.
Our dementia care services can include:
Meal Preparation: If your loved one has trouble remembering recipes, where they've put certain ingredients or have trouble holding cookware and utensils, our caregivers can prepare delicious and nutritious meals for them.
Mobility Assistance: Our caregivers can help your loved one get from room to room if their disease is causing issues with their physical health.
Assistance with Grooming and Dressing: We can help your loved one get dressed, take a bath or shower, go to the toilet and more.
Medication Reminders: If your loved one has trouble with taking their medications on time, we can help them stick to a regimen to maintain good health.
Light Housekeeping: Our housekeeping services greatly benefit seniors whose disease has made taking care of the house a challenge. We can dust, sweep, mop, vacuum, do laundry and more.
Wandering Prevention: Our caregivers will keep a close eye on your loved one to make sure they don't wander off.
Transportation: Our caregivers can help your loved one run errands, go to the doctor and wherever else they need to go.
Fall Prevention: Your loved one's diagnosis can make them prone to falling. Our caregivers can identify fall-related risks at home so your loved one can stay safe.
Our dementia care services are provided by caregivers who are extensively trained to provide the support that seniors with memory-related illnesses need to maintain good quality of life, so you can rest assured your loved one is in capable and caring hands.
Learn more about our home care services for seniors with memory-related illnesses by contacting our East Bernard, TX office today.
Serving East Bernard, Rosenberg, Wharton, Katy, Victoria, La Grange, Columbus, Fulshear, El Campo, and Surrounding Areas in Southeast Central Texas
Visiting Angels
EAST BERNARD, TX
704 Church St #A
East Bernard, TX 77435
Phone: 979-335-4025
Fax: 979-335-4121