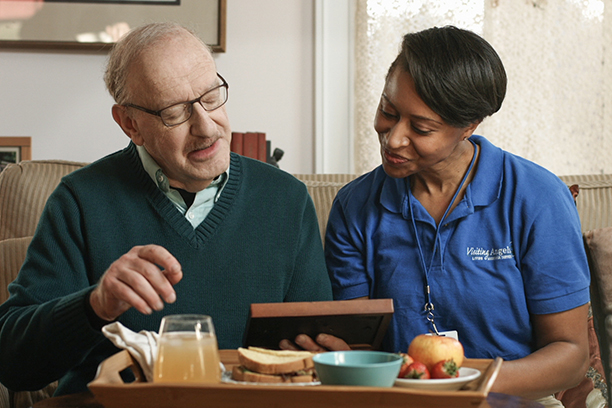 Meal Planning and Preparation Services for Seniors in East Bernard, TX and Surrounding Areas
Caregivers from Visiting Angels can plan and prepare delicious and nutritious meals for seniors in East Bernard, Wharton, Katy, Fulshear, El Campo, La Grange, Rosenberg, Columbus and surrounding areas in Texas through our companion care services
Meal planning and preparation are an important aspect of making sure your senior parent is not malnourished or overweight. However, both meal planning and preparation take time and energy that many older adults simply do not have at their disposal. As your loved one gets older, they will inevitably get weaker and less able to do things on their own.
As they do start needing a bit more help, they may be reluctant to ask for it and simply start doing less of the activities of daily living. One of the first things your senior parent may start cutting corners on could be their nutrition. Help them avoid doing so with quality companion care from Visiting Angels East Bernard.
Why Eating Healthy is Important for Seniors in East Bernard and Surrounding Areas
There are many reasons older adults become malnourished or overweight. One of the most common is the one we covered above: general weakness or inability. On the other hand, you will be hard-pressed to find a senior that does not have at least one chronic condition. Over time, dealing with the demands of a chronic illness can take its toll.
At the same time, many seniors have trouble eating because of an illness or the treatment for it. For example, cancer patients undergoing chemo have trouble eating as they get nauseous from the treatment. Many medications taken by seniors also impact appetite and can result in seniors making less of an effort to eat throughout the day.
At Visiting Angels East Bernard, we approach each senior as an individual. This means that we account for all of the particular experiences your loved one may be experiencing and compensate for them as part of our home care services.
How Companion Care from Visiting Angels East Bernard Helps Seniors Eat Well
With Visiting Angels East Bernard, meal planning and preparation is easy. As part of our holistic approach, we will include your loved one as much as possible. When it comes to grocery shopping, this can mean a lot of different things. We will plan meals with your parent and make sure all the groceries necessary for preparing the meals is available. If your loved one would like to accompany us to go grocery shopping, that's great! More activity.
We will also prepare meals for your parent. Your loved one may prefer having small meals available throughout the day. We can help make this happen by preparing food ahead of time and portioning it off and storing it in the refrigerator or freezer.
To find out more about companion care and other quality home care services available from Visiting Angels, reach out to our East Bernard, TX office today!
Serving East Bernard, Rosenberg, Wharton, Katy, Victoria, La Grange, Columbus, Fulshear, El Campo, and Surrounding Areas in Southeast Central Texas
Visiting Angels
EAST BERNARD, TX
704 Church St #A
East Bernard, TX 77435
Phone: 979-335-4025
Fax: 979-335-4121