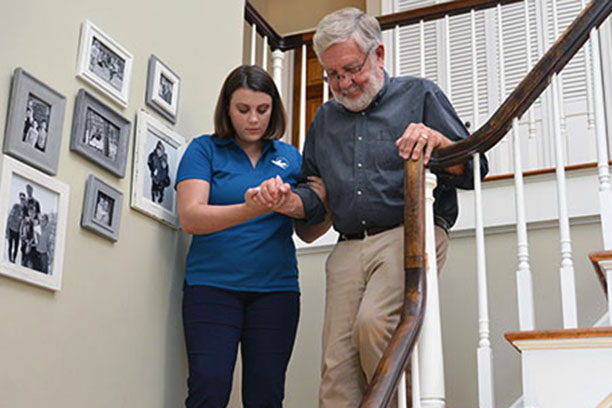 Preventing Falls with In-Home Elderly Care Services in East Bernard
With specialized in-home elderly care services from Visiting Angels, seniors in East Bernard, El Campo, Wharton, Fulshear, Columbus, La Grange, Rosenberg, and Katy, TX, can remain safely at home for years to come and minimize the risk of indoor falls, accidents, and injuries
Falls are one of the most significant health and safety concerns for seniors. They can impact an older adult's life in more ways than one, often leading to prolonged hospitalization and reduced independence. Seniors are often afraid to leave their homes due to the fear of falling, which can negatively affect their physical and mental health and social life. This can increase feelings of helplessness, anxiety, sadness, isolation, and depression.
That's why Visiting Angels East Bernard offers fall prevention services for seniors throughout Southeast Central Texas. We help seniors stay safe and avoid being injured in a fall through comprehensive in-home elderly care services.
Call Visiting Angels East Bernard at 979-335-4025 today to learn about our home care services.
The Risks of Fall-Related Injuries for Seniors
According to senior care experts:
One in three seniors falls every year.
One in five seniors sustains a serious injury as a result of a fall, including a broken hip, fractured bones, head trauma, and other injuries
Seniors who fall once are more likely to fall again
800,000+ older adults are hospitalized due to fall-related injuries each year
Recovery from a fall-related injury can take up to 12 months in a rehabilitation facility
Many seniors never return home from a rehabilitation facility
While it is essential for seniors to educate themselves on preventing falls, they should not be afraid to lead normal, active lives as they age. While many think that falls randomly happen for older adults, the reality is one or more risk factors cause that falls. Risk factors for falls include medical conditions, unsafe home environment, poor eyesight, use of multiple medications, and dehydration, to name a few. If your loved one knows these risk factors, they can prevent falls.
Helping Seniors Avoid Falls with In-Home Elderly Care Services from Visiting Angels East Bernard
The first and most significant step to fall prevention is education and raising awareness. We are committed to educating not just older adults and their families but also primary caregivers and other service providers about how they can reduce falls. Our fall prevention program is developed to minimize the risk of falls and allow your loved one to enjoy a high-quality life at home.
Schedule a FREE In-Home Consultation
Give our office in East Bernard, TX, a call today to learn more about how our caregivers can help your loved one stay safe and get answers to any questions you may have about our in-home elderly care services in Southeast Central Texas.


Serving East Bernard, Rosenberg, Wharton, Katy, Victoria, La Grange, Columbus, Fulshear, El Campo, and Surrounding Areas in Southeast Central Texas
Visiting Angels
EAST BERNARD, TX
704 Church St #A
East Bernard, TX 77435
Phone: 979-335-4025
Fax: 979-335-4121