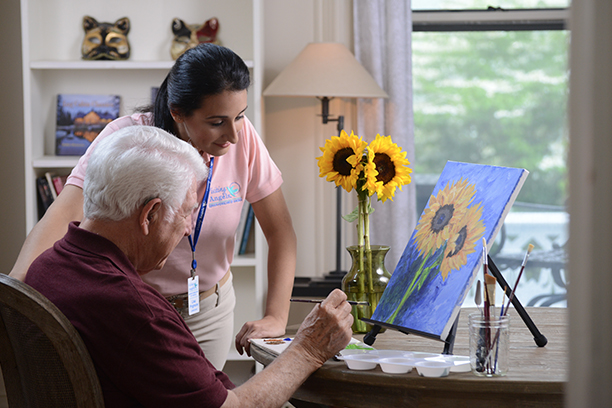 How We Assist With Aging in Place in Hoschton
Despite having the desire to live in their own homes as they get older, many elderly adults eventually move to a nursing home or other type of care facility before they're ready. Aging in place offers a number of benefits for older individuals, but it's not always possible to accomplish this task without the help of a caregiver. If you have a grandparent, parent, or relative living in the Hoschton area who wants to maintain their independence at home but is struggling with challenging age-related issues, our caregiving services can help.
The Importance of Aging in Place
Aging in place is often important to elderly adults, a truth that is clearly shown through statistics provided by AARP. According to these numbers, about 9 out of every 10 Americans who are over the age of 65 want to live in their own homes for as long as they possibly can.
There are many reasons why a senior may want to age in place in Hoschton and beyond. For one, it can be difficult for them to part with the comfortable environment they've called home for so many years. Our homes are filled with warm memories, and leaving these familiar surroundings is often traumatic. This may be especially true for elderly adults who depend on their daily routines and rituals to feel at ease.
In-Home Care vs. Assisted Living
Unlike aging at home, moving to an assisted living center requires seniors to part with many of their routines and habits. Rather than continuing to go about their day-to-day lives on their own terms, residents of care facilities commonly have to base their days on schedules dictated by the care center. Oftentimes, this lack of autonomy can cause seniors to feel like they've lost their independence, which can negatively affect their emotional well-being.
How We Help Families in Hoschton
At Visiting Angels® Hoschton, we've always maintained the mission of helping seniors age in place. We would love to help your family find a care solution that allows your loved one to remain at home. Call our office today for a free consultation to learn more about how our services can make a difference in your loved one's quality of life now and in the future.
Learn more about how we make aging in place possible in Hoschton, Auburn, Commerce, Gainesville, Jefferson, Winder, and the surrounding areas by booking a free consultation with Visiting Angels Hoschton today!
Serving Oakwood, Hoschton, Winder, Jefferson, Commerce, Gainesville & the Surrounding Area
Visiting Angels
HOSCHTON, GA
165 Towne Center Pkwy
Hoschton, GA 30548
Phone: 678-682-7444
Fax: 678-682-7454