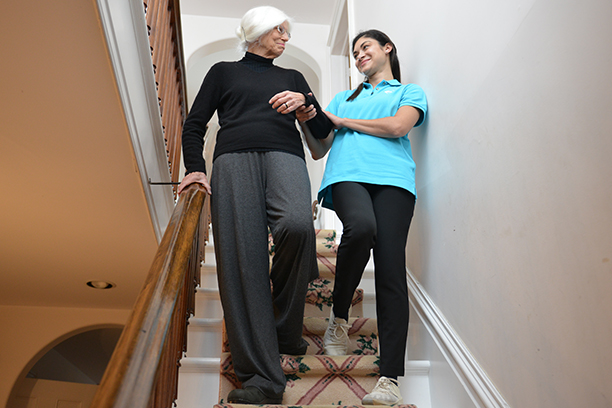 Why Choose Visiting Angels
Why Choose a local Visiting Angels for Your Home Care Needs?
Visiting Angels strives to make staying at home a positive experience. One of the ways we do this by allowing you to select your caregiver from a group of certified, skilled caregivers. This allows you to be comfortable with the person that will be providing the care. We will work together with you or your loved one to develop a personalized elderly care service plan. In Georgia, unskilled caregivers may be utilized only in cases where no personal care or hygiene assistance is needed.
You Are In Charge – We're On Your Schedule
With our Visiting Angels office, you're in charge. We will work with you to create a schedule that works for you - (i.e. what time to get up, when to bathe, meal schedules, etc.). It is our intention to be flexible to your schedule. The goal is to ensure that you remain comfortable in your home. Visiting Angels is senior home care at its best!
Bonded, Licensed and Insured
All Visiting Angels senior home care agencies are required to be bonded and insured. The Hoschton, GA office of Visiting Angels has our state license and we adhere to all the required state regulations. You can have the peace of mind that our agency is trustworthy. When we say, "We wouldn't put a Caregiver in your home that we wouldn't trust with our family" WE MEAN IT!
Monitoring is Essential
We strive to have a relationship built on communication. Our Visiting Angels' senior home care office is trained to continuously monitor our caregivers. Through telephone check-in and home visits (scheduled and unscheduled), we have designed our system to enable us to check in regularly with your loved one. Our goal is to provide the most consistent, high quality care possible.
Tailor Your Care To Your Needs
We understand that no two people are the same and needs vary from person to person. Depending on the type of care you are looking for whether it is respite care, personal in home care, part or full time care, or care outside of your home (at an assisted living facility), our local Visiting Angels office can agency can tailor your program of senior home care based on your needs. We offer flexibility to your elderly care program, allowing you to work with our office to change the program as different needs arise. It is not uncommon to work along with any home health agency or nursing agency that may be assisting your loved ones after a recent hospital stay. We call this transition care.
Serving Oakwood, Hoschton, Winder, Jefferson, Commerce, Gainesville & the Surrounding Area
Visiting Angels HOSCHTON, GA
165 Towne Center Pkwy
Hoschton, GA 30548
Phone: 678-682-7444