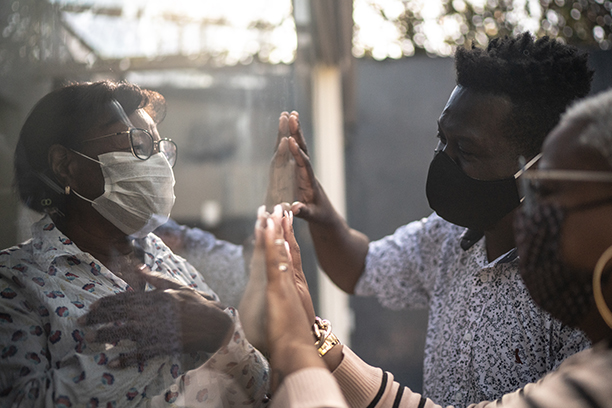 Long Distance Caregiving
In Today's World, it is not Uncommon for Families and Friends to be Separated by Great Distances.
There are many reasons for the geographical separation of the family nucleus. Whatever the situation is, a new job opportunity, educational opportunities, change of lifestyles or many other reasons result in the adult children of families to move away from their homes and parents. Often parents retire to resort communities to enjoy the warmer climates creating even greater distances between their loved ones. There is a distinct possibility, at some point in their lives, your loved one may not be able to properly care for themselves. Suddenly you are faced with the challenge of finding qualified long distance living assistance services. At Visiting Angels, we can help you make arrangements to provide your loved one the care they deserve and you the peace of mind that comes with knowing that they are being cared for properly.
Caregiving Services, Customized for Your Loved One
Visiting Angels is the nation's most trusted name in home care services. With over 600 affiliate offices, we have the depth to provide you and your family the best coast to coast care. It not uncommon for children to call from long distances to explore in home care services. We assist families separated by distance arrange for compassionate living assistance services for their loved ones and for their own peace of mind. With a simple phone call to our National headquarters or the local Hoschton GA office at (678) 682 - 7444, our experienced home care team can put you in contact with our Visiting Angels franchised office local to your loved one.
We understand that this time is stressful for both you and your loved one. When you choose Visiting Angels your locally owned office will meet with your loved one and with our "Select your caregiver®" program arrange to introduce a qualified caregiver. All along the way, we will keep you in the loop and report back to maintain your peace of mind. Your local Visiting Angels office will support you in putting together the other pieces of the long distance caregiving puzzle. It can be stressful but we can help reduce the pressure and find your peace of mind.
Visit our online brochure library and download the information that is important to you. Contact our local office in Hoschton GA at 678 682 - 7444. Let us hep you today!
Serving Oakwood, Hoschton, Winder, Jefferson, Commerce, Gainesville & the Surrounding Area
Visiting Angels HOSCHTON, GA
165 Towne Center Pkwy
Hoschton, GA 30548
Phone: 678-682-7444