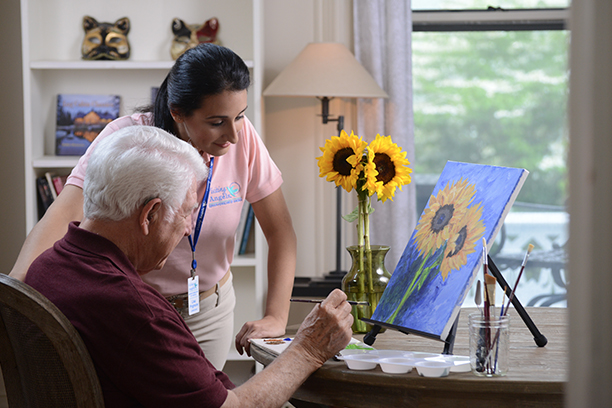 Long-Distance Elder Care in Hoschton
Elder Care for Families Separated by Long Distances
If you currently reside far from the people closest to your heart, you're not the only one dealing with the many challenges long-distance families face. Over the years, it has become increasingly common for parents and their adult children to be separated by vast distances. When you realize a loved one requires help that you can't provide because you live so far away, you can arrange for at-home elder care with the help of Visiting Angels® Hoschton. We will work with you to ensure your loved one receives the assistance they require. Moreover, we'll give you peace of mind throughout their care journey.
Our Approach to Elder Care
We understand that arranging long-distance care can be stressful for families, especially when they know their loved ones desperately need support. We have created a straightforward approach to setting up care that accommodates the unique needs of families in this situation. Here's how our team will assist you with coordinating elder care for your parent, grandparent, or other loved one in the Hoschton area:
We'll answer your questions during an obligation-free consultation. We can hold a free consultation with you and your loved one at your convenience, ensuring you're included in the conversation by phone, over email, or through a video messaging application.
We'll keep you in the loop during the care planning process. As we design a care plan to suit your loved one's needs, we'll continuously communicate with you to gather your input and ensure you're satisfied with the end result.
We'll provide you with regular updates about your loved one's care. We know wondering about your loved one's condition can be anxiety-inducing, and we are committed to providing long-distance families with frequent updates about their loved ones' situation.
We'll always be easy to contact in the case of an emergency. You'll never have to worry about reaching our office, even after hours. We have an after-hours number you can call, as well as a guaranteed response time of a quarter-hour.
We can arrange for care across multiple locations. If your loved one spends time in multiple cities, we can ensure they receive care whenever they need it.
Learn more about setting up elder care for a loved one living in Hoschton, Auburn, Commerce, Gainesville, Jefferson, Winder, or a nearby community today. Simply contact Visiting Angels Hoschton to schedule your free consultation.
Serving Oakwood, Hoschton, Winder, Jefferson, Commerce, Gainesville & the Surrounding Area
Visiting Angels
HOSCHTON, GA
165 Towne Center Pkwy
Hoschton, GA 30548
Phone: 678-682-7444
Fax: 678-682-7454