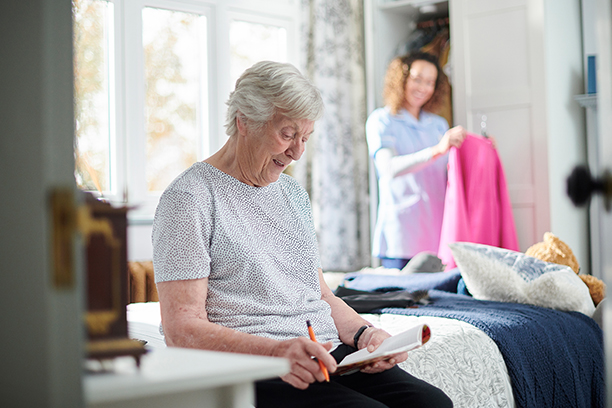 Respite Care Services in Jersey City, NJ and the Surrounding Area
Visiting Angels of Jersey City Provides Respite Care Services to Elderly Adults in Jersey City and Bayonne
Caring for a loved one is one of the most generous and caring things you can do. Being a family caregiver is a rewarding, yet demanding role. Whether you're caring for a parent with Alzheimer's or a disabled sibling, you're providing the assistance they need to continue living safely at home.
Many family caregivers find it difficult to spend time focusing on their own needs, when their loved one is the focus of their attention. However, to provide the best possible care, you need to be sure you are also taking good care of yourself. Attending your own diet, incorporating exercise, taking breaks, and looking after your emotional well-being is essential. When you invest in respite care from Visiting Angels of Jersey City, you allow yourself to disengage for a few hours or a few days to rest and recharge.
How Visiting Angels of Jersey City Caregivers Help Seniors in the Jersey City Area
Visiting Angels respite care services program matches your loved one with one of our friendly and compassionate caregivers. Caregivers can visit for a few hours a day or several times a week to provide family caregivers with the opportunity to run errands, go to work, take a vacation, or simply rest and recharge.
When our caregivers visit, they will quickly put your loved one at ease. While engaging in friendly conversation, caregivers can also provide assistance with a wide variety of in home care needs. Our caregivers can help your loved one with dressing and bathing, transferring assistance, and other personal care needs. They can also help around the house performing simple chores and preparing healthy meals. The engaging senior care we provide makes it easy for your loved one to look forward to these visits and can help relieve the anxiety or guilt you may feel by stepping away for a few hours.
How to Get Started with Respite Care Services
If you've been feeling burnt out or are finding yourself feeling frustrated with your caregiver role, now is a good time to consider respite care services from Visiting Angels of Jersey City.
Taking care of yourself is vitally important. Visiting Angels of Jersey City can provide the break you need to rest and regroup.
Getting started with respite care services is easy. Simply get in touch with our office. We can match your loved one with a caregiver who can provide the assistance they need. Respite care services are offered on an hourly basis so you can establish the frequency and scope of care that best meets your needs. Because our home care services are flexible, should your loved one require more engaged care in the future, we can expand our role to includecompanion care,personal care, or even care forAlzheimer's ordementia.
Call to Schedule a Free Consultation
At Visiting Angels of Jersey City, we're here to be your caregiving partner. Find out more about our respite care services by calling 201-533-1415 today.
Serving Jersey City, Bayonne and the Surrounding Area
Visiting Angels
JERSEY CITY, NJ
366 Broadway
Bayonne, NJ 07002
Phone: 201-306-9313
Fax: 201-589-5770