Post Hospital Discharge Care — An Under-Used Part of In-Home Care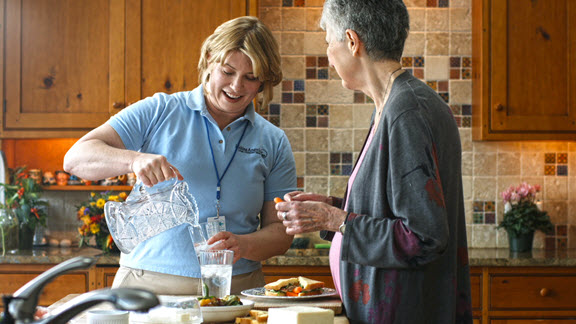 A major injury, illness, or health event can turn anyone's life upside down. So it can be tempting to view a loved one's hospital discharge as the moment when things go back to normal. Unfortunately, this is often not the case. With many hospital visits, the month or months after a hospital discharge represent a high-risk period. Often, seniors who are coming home from the hospital require care and support, including non-medical in-home care.
Unfortunately, many Americans underrate the challenges and dangers of a hospital discharge. So the in-home care team at Visiting Angels has put together this short guide to deciding whether or not post-hospital discharge care is right for you or a loved one close to you.
Why is In-Home Care So Important After Hospital Discharge?
Recovery from injury and illness doesn't end when you and your loved one walk out of the hospital doors. Any medical event that requires a hospital stay will likely take weeks — or even months — for full recovery. And a healthy recovery depends on following the directions of your loved one's doctor and nurses.
The fact is that too many Americans take recovery for granted, failing to realize the risks that follow a hospital visit. You may be surprised to find out that approximately 18% of hospital visits covered by Medicare are followed by a readmission within 30 days. Readmission can happen when a condition reoccurs, but it can also happen because of a secondary, related condition. For instance, many patients experience weakness and fatigue after a hospital visit, increasing the chance of a broken bone caused by a fall at home.
It goes without saying that when your loved one leaves the hospital, they don't plan on checking in again any time soon. One of the best ways to reduce their chance of readmission is to ensure they have the help they need around the home. In-home care after a hospital discharge ensures that your loved one receives the exact support they need to increase their chance of a full recovery. This kind of care can take many forms, from weekly check-ins, to daily visits, to 24/7 support and monitoring.
Medical vs. Non-Medical In-Home Care
When determining if a loved one requires hospital discharge in-home care, it's important to find out whether your loved one needs medical care or non-medical care. This is an important distinction, since some in-home care needs can only be handled by licensed medical professionals. To determine which kind of care will be best for your loved one, you should speak with his or her doctor.
Ready-Set-Go-Home Care from Visiting Angels
At Visiting Angels, we proudly offer a hospital discharge in-home care program that we call Ready-Set-Go-Home. This program offers non-medical in-home care to anyone returning home from the hospital. Our caregivers assist clients through their recovery, offering reminders when medications need to be taken, helping clients with aspects of physical therapy, and offering a hand around the home to make life easier.
If you're interested in our compassionate
home care
services for you or a loved one, contact your nearest Visiting Angels
home care agency
today or call 800-365-4189.