How to Talk about Senior Dating as a Care Provider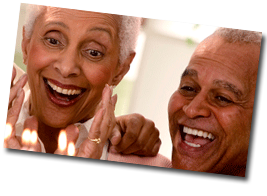 When it comes to senior dating, both seniors and those who care for them often feel awkward discussing the subject. Surveys have shown that Americans are more likely to discuss financial issues with an elderly relative than risk bringing up their romantic life. That's a shame, since dating brings many seniors a great deal of happiness. And as senior care providers, both family caregivers and their loved one can benefit from even a brief discussion around a parent's love life.
Why Bring It Up?
For many seniors and their loved ones, there doesn't seem to be a reason to discuss senior dating. Families approach the subject with an attitude of, "Why bring it up?" missing obvious reasons to start the conversation.
As a senior care provider for a parent or family member, here are just a few of the reasons to have a conversation about dating and romance:
Emotional well-being. Dating can make a huge difference in the emotional well-being of your loved one – for better or for worse. As a senior care provider, understanding what makes your loved one happy makes it easier for you to accommodate their joy and well-being.
Fraud risks. Some con artists defraud seniors by preying on their emotional needs. Opening up a conversation about your loved one's romantic interests makes it easier to identify potential fraud risks.
Senior health. Sex is even more uncomfortable conversation between seniors and their loved ones, but it's an important discussion to have – even if you keep it brief. Many seniors are unaware of the health risks involved in an active sex life, and you want to make sure your loved one is safe.
Keeping family connected. Tensions can build in a family because of things left unsaid. After all, it can be upsetting to find out someone you didn't even know existed is suddenly moving in with your mom or dad! Keeping lines of communication open helps keep families strong and supportive of each other.
Starting the Conversation
The hardest part of discussing your loved one's romantic life is getting the conversation started. After all, if this is a touchy subject for you, it's probably just as touchy a subject for your loved one. If you, your loved one, or both of you feel uncomfortable broaching the topic, try to think of ways to lessen the discomfort.
Often, the best way to start the conversation is to ease into it. Start small, ask questions, and be sensitive to your loved one's discomfort. Remember that the easiest way to make your loved one uncomfortable is to show discomfort yourself. Try to control and measure your reactions to their answers, and be prepared to hear some things you might not expect.
Remember most of all that a few minutes of discomfort can make caring for your loved one that much easier.
If you're interested in our compassionate
home care
services for you or a loved one, contact your nearest Visiting Angels
home care agency
today or call 800-365-4189.