Senior Care on the Road: Travel Tips for the Elderly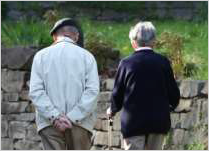 It's summer, and that means its vacation season. Unfortunately, the business, stress, and activity that comes with travel can put a strain on elderly vacationers. Of course, that doesn't mean that the elderly can't enjoy traveling! On the contrary, with the right senior care travel plan, a vacation can be a healthy, beneficial experience for elderly individuals – physically, emotionally, and spiritually.
"Senior travel has really taken off in the past few decades, and seems to be accelerating with each passing year," says Larry Meigs, CEO and President of Visiting Angels. "As senior care professionals, we make an effort to educate seniors and their families about smart senior care strategies when traveling."
Below, we've collected some of our biggest senior care travel tips for your next vacation.
Senior Care Tips for Planning a Vacation
The most important thing you can do when traveling with an elderly loved one or when helping them book a vacation is to plan the trip correctly. Senior care when traveling is made easier for everyone when you plan your trip around your loved one's senior care needs. Some of the considerations you might want to keep in mind when planning a trip are:
Check to make sure accommodations are senior friendly. Call ahead to ask about accessibility and space concerns.

Check with your airline before booking your tickets about how you can make flying easier for your loved one.

If your loved one needs supplemental oxygen, check with your airline about its oxygen policy. These policies change from airline to airline.

Check to make sure that senior-friendly transportation is readily available in the areas where you'll be staying.

Check with your loved one's doctor about any travel concerns he or she might have.
Bringing Senior Care with You
If your loved one requires day-to-day senior care services, you'll need to make sure that care can be provided while on vacation. That means bringing the medications and materials that he or she needs to maintain care while traveling. Some steps you may wish to take include:
Make sure you bring any medications your loved one needs. Double-check to make sure you have brought enough for the entire trip.

Pack medication securely, bring an extra week's worth, and carry copies of prescriptions with you in case of emergencies.

Prioritize any care items your loved one may need when you pack for your trip.

If your loved one receives professional senior care, discuss strategies with his/her caregiver about how to continue care while traveling.
If you're interested in our compassionate
home care
services for you or a loved one, contact your nearest Visiting Angels
home care agency
today or call 800-365-4189.