Keeping Homebound Elders Active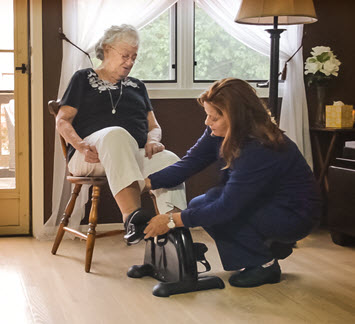 When people hear the word "homebound," active is rarely the next word they think of. But as elder care professionals, Visiting Angels caregivers can tell you better than anyone just how important staying active is for homebound seniors.
Of course, "active" can have a wide range of meanings, and while physical activity – however limited – is encouraged for homebound individuals, staying mentally active is just as (if not more) important, helping to promote both mental and physical well-being.
"Even if a person becomes homebound for purely physical reasons, the effects of feeling cut off from the outside world are, sadly, far-reaching," says Visiting Angels CEO Larry Meigs. "What starts out as just a physical condition can have major emotional and mental consequences."
Because of this, we design care programs for homebound elders with physical, mental, and emotional stimulation in mind.
To promote physical activity, it's always good to encourage homebound elders to maintain their daily routines as much as possible. While weakness or limited mobility might make certain tasks harder, so long as your love one is capable, and not risking injury, they should be encouraged to keep up activities such as walking, gardening, and cooking, all of which can be done with supervision or aid if necessary.
There are a wide variety of mentally and emotionally stimulating activities for homebound seniors. At Visiting Angels, we often find that simply making an effort at keeping a care recipient engaged is enough to make a difference. Sometimes, all it takes is a little attention and human interaction.
Activities such as reading, crosswords, board games, and puzzles are excellent ways to improve mental engagement. Likewise, writing letters and emails or calling family and friends can help seniors feel connected socially. The advent of the internet has made this easier than ever, and video call programs such as Skype can be invaluable to seniors confined to their own homes.
Finally, there's one activity some might find surprising: work. Though not the case with every senior, some retirees miss the feeling of purpose and engagement that came with their careers. As the AARP points out, in the internet age, working or volunteering from home is easier than ever. For a small group of driven seniors, the chance to stay active in the workforce from home can prove a valuable and rewarding experience.
While our elder care providers are happy to help keep our care recipients active, you don't need to be an elder care professional to help a homebound person stay active. In fact, our care providers often work with family members and friends to improve activity levels when we're not there. We recommend talking to your loved one's elder care provider or physician for ideas on how you can help to keep your loved one active.
If you're interested in our compassionate
home care
services for you or a loved one, contact your nearest Visiting Angels
home care agency
today or call 800-365-4189.