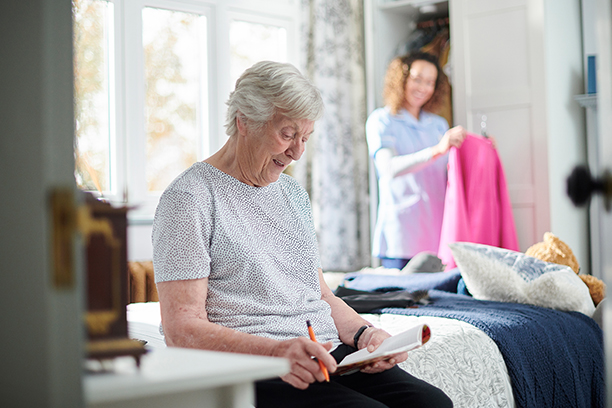 Discussing At Home Care Options in Marietta, GA
Guidlines for Talking to Aging Parents About Choosing At Home Care in Marietta
How do you help your elderly loved one get past their family customs and cultural beliefs to accept assistance in their home? How do you tell your loved one that you and your siblings are concerned about them living alone at home? How do you help them keep their independence without interfering in their life or making decisions for them?
These are issues that will not go away with time. To the contrary, it will behoove everyone involved to be proactive about such difficult topics. With advance planning and straight-forward discussions, the problem solving process actually can work well, but it will take some concentrated effort by you, siblings, and your loved one.
The Family Plan
Setting up a family meeting can be a great place to begin having discussions about the care they should be receiving (or wants to receive). It may seem obvious but remember that they are the ones who will be making choices about their own life, not you or one of your relatives (unless of course, there is a very serious health concern and your loved one is being quite unreasonable and disregarding this health concern).
Your loved one should always be a part of the central discussions-if not, it could be difficult for you to come to solutions that are acceptable to them.
Family meetings should be supportive, and this support alone may be enough to convince them that they should being to consider some form of at home care before their health deteriorates.
Even with the most thought out and well planned family meeting, resistance from your loved one (and possibly from others) is normal when discussing their independence-or lack of thereof.
If they show signs of resistance and would like to delay discussions for a while, don't push them into having the meeting. Realize they may need some time to embrace the subject-approach them in a week or two and suggest another time to have the meeting if they continue to be stand-offish, be a bit more assertive, making sure that they understand that you (and your family) want this meeting because you care about them and their well-being.
Approaching the Difficult Subject That Your Loved One May Need Home Care
Many of the conversations you will be having on your loved one's behalf could very well be emotionally laden and must be handled carefully.
Things to remember when you and your family discuss the possible need of in home care are:
Your loved one must be the focus of all discussions and be totally involved (assuming their mental capabilities are up to the task).
Voice your opinions using "I" statements.
Have a clear topic for every discussion.
Be assertive about your thoughts.
Be respectful of your loved one's opinions.
Realize it may take some time and several conversations to come to a consensus.
Avoid blaming others or using "you" statements.
Don't try to accomplish too much in one conversation.
Anticipate the difficulty in persuading your loved one and reassure them of the freedoms at home care will provide them.
Discuss the option of a free, non-committal, in home consultation with a Visiting Angels caregiver to aide in the decision making process.
Serving Marietta and Smyrna, GA
Visiting Angels MARIETTA, GEORGIA
2470 Windy Hill Rd SE #300
Marietta, GA 30067
Phone: 770-709-6884
Fax: 678-324-7612