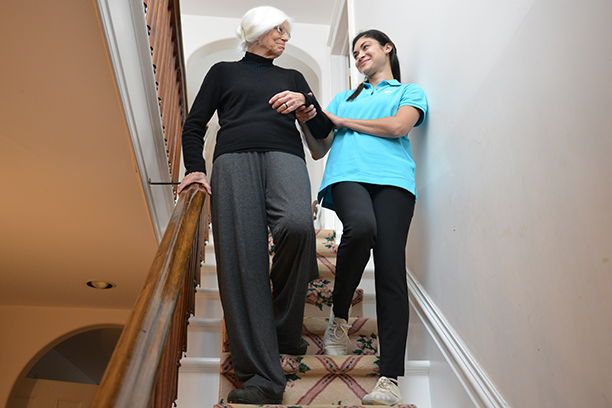 Our Character
Elderly Home Care with Character from Visiting Angels Metro East IL
Choosing to find an outside caregiver for a loved one is never easy. While you may be certain your aging family member needs additional help, it's difficult to know whom to trust or where to turn. Visiting Angels Metro East IL makes the process of selecting elderly home care easier for you and your aging loved one. From your first phone call to our locally owned agency, you will be greeted by our compassionate professional staff.
When you call Visiting Angels Metro East IL for elderly home care, we will schedule an in home appointment at your convenience. During that time, you will have the opportunity to tell us about your loved one's health and wellness concerns. You can let us know what they struggle with, areas where help would be beneficial, and any medical directives from their physician's which our non-medical care can complement. Professional staff from Visiting Angels Metro East IL will leave your home with a solid understanding of your elderly home care needs.
Choose Your Elderly Home Care Provider
Once we return to our agency, we will take a close look at your aging family member's needs and at our Angel companions. Visiting Angels Metro East IL will select several elderly home care providers from our staff whose skill set matches your care needs. Next, you and your loved one will be given the opportunity to meet with these caregivers in person and get to know them a bit before selecting the one you are most comfortable with. Elderly home care from Visiting Angels Metro East IL builds your confidence by letting you take charge of your care.
The caregiver you select for elderly home care services from Visiting Angels Metro East IL understands what a significant role they play in your family member's life. Our Angel companions aim to treat their clients with dignity and respect in any given situation. While providing knowledgeable care to your loved one a close friendship is often formed between caregiver and client. Families are very pleased with the relationship which is built between their loved one and their provider while receiving elderly home care from Visiting Angels Metro East IL.
If you are looking for compassionate elderly home care for your treasured loved one, call Visiting Angels Metro East IL.
Serving Communities in St. Clair, Madison, Monroe and Randolph Counties IL
Visiting Angels
BELLEVILLE, IL
347 Covington Drive #A
Waterloo, IL 62298
Phone: 618-257-2200
618-939-5800
Fax: 618-257-2205