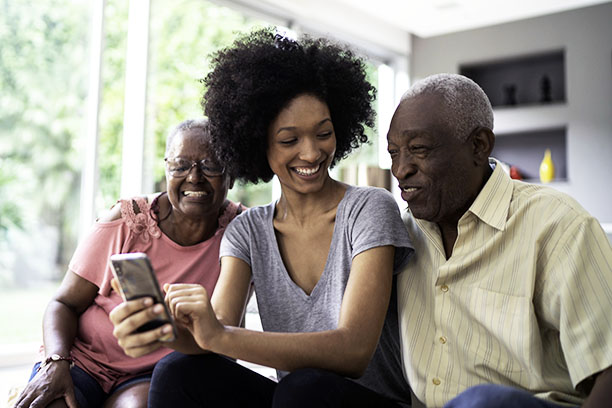 How at Home Caregivers from Visiting Angels of Newburyport, MA Provide Social Care
Social Care Program from Visiting Angels at Home Caregivers in Newburyport, Methuen, and Surrounding Areas
Seniors need to stay connected with the people that they love most: their family and friends. Whether they live minutes or hours away, modern technology makes socializing as simple as pressing a button. But, as technology progresses rapidly, it can be hard for seniors to adapt. That's why Visiting Angels of Newburyport offers a social care program to Newburyport area seniors. During our program, at home caregivers will teach local seniors about the many ways technology can benefit their lives.
The positive impact that technology has on seniors is proved time and time again by scientific studies, including:
A study conducted by the University of Arizona found that 25% of their sample group of seniors improved their mental "updating" skills. Mental updating skills include memory and working skills.

Recent studies by the Washington, D.C based Phoenix Center have shown that surfing the internet can increase depression in seniors by as much as 20%.*

The Journal of Cyberpsychology, Behavior, and Social Networking found out that seniors who used social networking platforms such as FaceTime or Facebook reacted positively, measured by pupil dilation, brain stimulation, and breathing rates.
What Seniors Learn from Social Care
In our program, Newburyport seniors will learn how to use the internet in a variety of different ways. Social media, for example, will be a largely important topic within our program. Our caregivers will teach your loved one how to navigate Facebook, including making a profile and interacting with friends and family. Also, your loved one will learn how to use video messaging platforms like FaceTime and Skype. Understanding technology helps seniors socialize with their loved ones easily and learn more about the world around them.
Want to learn more about our social care? Interested in seeing what our at home caregivers can do for your family? Contact Visiting Angels of Newburyport today to learn more.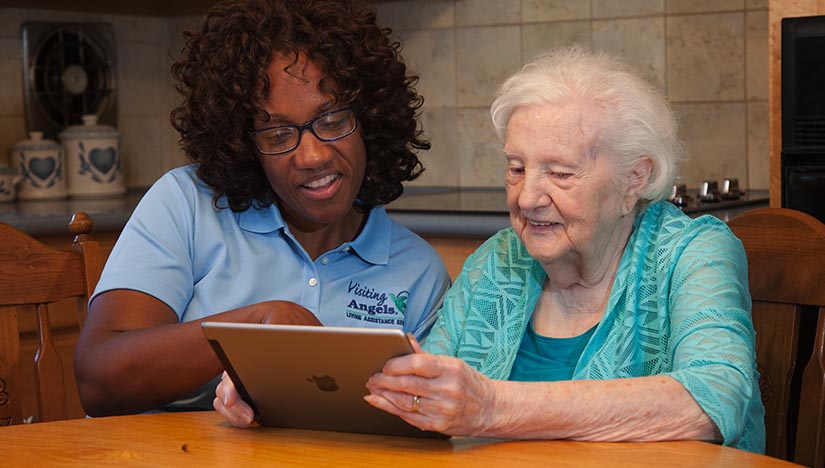 Because of this program, I was able to experience two of the greatest joys in life – becoming a grandmother and seeing my son become a new father. Skyping and Facebooking with my son and his family are now a normal part of my life. It helps me feel like I'm still an important part of their lives even though I'm miles and miles away.

* Washington, D.C. based Phoenix Center
** Journal Cyberpsychology, Behavior, and Social Networking
Serving Merrimack Valley in Massachusetts
Visiting Angels
NEWBURYPORT, MA
182 State St.
Newburyport, MA 01950
Phone: 978-462-6162