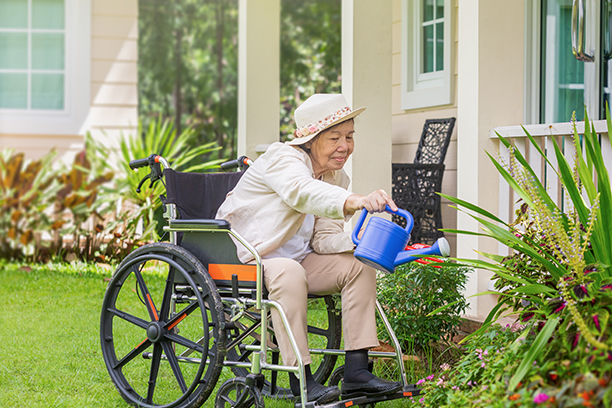 Ways Our Caregivers Can Help Fernandina Beach Seniors
As the Jacksonville area's source for quality caregivers, Visiting Angels Jacksonville proudly connects Fernandina Beach seniors with the care they need and deserve. If you have a loved one in Fernandina Beach who requires a caregiver's assistance and support, our agency will be happy to connect you with quality care — no matter your loved one's difficulties or care-related needs.
Caregivers referred by Visiting Angels Jacksonville to seniors in Fernandina Beach can lend a helping hand with a wide array of care services. Our caregivers offer assistance with physical care, lifestyle support, memory care, and companionship services.
Physical Support for Fernandina Beach Seniors
No matter how well we take care of ourselves, age inevitably takes a toll on our physical health and wellbeing. If you have a loved one in Fernandina Beach who is struggling with strength, coordination, or mobility, our caregivers can offer the physical support your loved one needs to live comfortably and safely. Caregivers referred by Visiting Angels Jacksonville can assist with dressing, grooming, daily hygiene, light housekeeping, and mobility support for seniors with physical difficulties.
Care for Cognitive & Memory Difficulties
If your loved one is coping with cognitive decline, professional care can make a huge difference in their happiness, comfort, and overall well-being. Cognitive decline can range from increasing forgetfulness to degenerative conditions, such as Alzheimer's. Our agency connects Fernandina Beach seniors with caregivers who offer compassionate support and monitoring to those coping with cognitive disorders.
Lifestyle Assistance & Non-Medical Health Care
Our caregivers help Fernandina Beach seniors live healthier by assisting in areas like diet and exercise. We can connect seniors with caregivers who are able to help with meal planning, grocery shopping, and meal preparation to encourage healthy eating habits. Many of our caregivers also accompany seniors for walks and other forms of light exercise, like gardening. If your loved one is suffering from a condition like diabetes, COPD, or arthritis, we can connect you with caregivers who make day-to-day living more manageable.
Caregiver Companionship in Fernandina Beach
One of the most valuable ways that our caregivers help seniors is simply through offering companionship. If your loved one is at risk of senior isolation, we can connect them with a care companion. By dropping in, helping out with small tasks, and providing your loved one with one-on-one contact, caregivers referred by Visiting Angels Jacksonville can help your loved one avoid the emotional and health concerns of senior isolation.
Choosing Your Caregiver
Exceptional care is only possible when the right fit exists between caregivers and the people they care for. To ensure the right fit for your loved one, Visiting Angels Jacksonville will coordinate a meeting in the comfort of your loved one's home where you'll be able to interview a potential caregiver. As long as it's a good fit, you'll have selected a caregiver and care can begin as soon as a schedule is arranged.
Visiting Angels Jacksonville serves seniors in Jacksonville, Fernandina Beach, Orange Park, Amelia Island, and Fleming Island. Contact us today for your free caregiver consultation.
Serving Jacksonville, Amelia Island, Duval, Clay, and Nassau Counties
Visiting Angels
JACKSONVILLE & AMELIA ISLAND, FL
4250 Lakeside Dr
Jacksonville, FL 32210
Phone: 904-302-7560
Fax: 904-352-2357
HCA232729 & HHA299994100