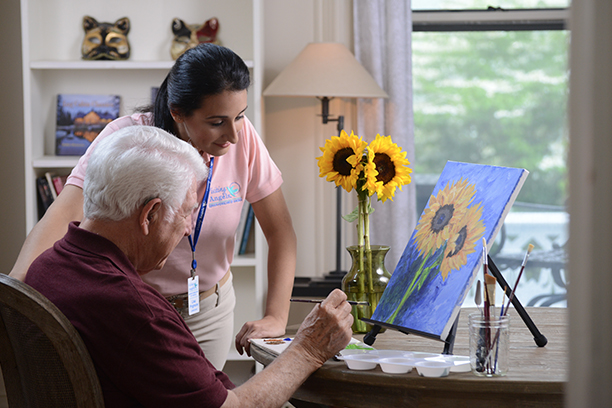 Caregiver for Elderly
Some Questions to Ask When Selecting a Caregiver for Your Elderly Loved One
If you're looking for information on our website, you've likely come to a place where you realize your loved one could benefit from senior home care. The question you now face is, "How do I select the best caregiver for my elderly loved one?" You are not along in asking this important question. There are several things you should look for when selecting a caregiver for your elderly loved one. Visiting Angels Jacksonville can offer you some guidance.
First, it's important you have an opportunity to sit down with a potential caregiver and speak to them in person. You can get a feel for their personality better in person than over the phone or by looking at a sheet of paper. Would your loved one get along best with a caregiver who has a healthy sense of humor? How about someone who is very nurturing? Maybe your aging parent needs a caregiver who is gentle, but firm. The best way to get a feel for a potential caregiver's personality is to meet with them in person and spend some time talking and asking questions.
Questions for Interviewing Elderly Caregivers
Now for the important part, what types of questions should you ask? When seeking out an elderly caregiver from Visiting Angels Jacksonville for your loved one, be sure to ask what types of services they offer. Have a list of tasks you know your family member could use help with and see if the potential caregiver has additional ideas on how to make your loved one's day easier. Caregivers from Visiting Angels are adept at assisting with a wide array of tasks including, but not limited to, help with mealtimes, including planning, preparation and dietary monitoring. Caregivers for the elderly can also help with running errands, medication reminders, social care, and household organization.
Another good question to ask any potential elder care provider is what type of scheduling options they have available. Look for an elderly caregiver, such as those from Visiting Angels Jacksonville, who has a flexible schedule and can accommodate necessary changes. Visiting Angels offers services on a long erm and short term basis. Whether you need help one hour a week or every day, your senior home care agency should be able to accommodate your schedule.
At Visiting Angels Jacksonville, we understand these may not be the only questions you have when choosing a caregiver for your elderly loved one. Questions may arise as you go through the process and while your family member is receiving care. Our knowledgeable staff is here to answer your questions and address your concerns around the clock.
Choosing an elderly caregiver for your loved one is a big decision. Once you call Visiting Angels Jacksonville and discover everything we have to offer, your choice will be simple. Visiting Angels Jacksonville proudly matches caregivers with clients in Fernandina, Fleming Island, Orange Park, Amelia Island, and throughout the Jacksonville area.
Serving Jacksonville, Amelia Island, Duval, Clay, and Nassau Counties
Visiting Angels
JACKSONVILLE & AMELIA ISLAND, FL
4250 Lakeside Dr
Jacksonville, FL 32210
Phone: 904-302-7560
Fax: 904-352-2357
HCA232729 & HHA299994100