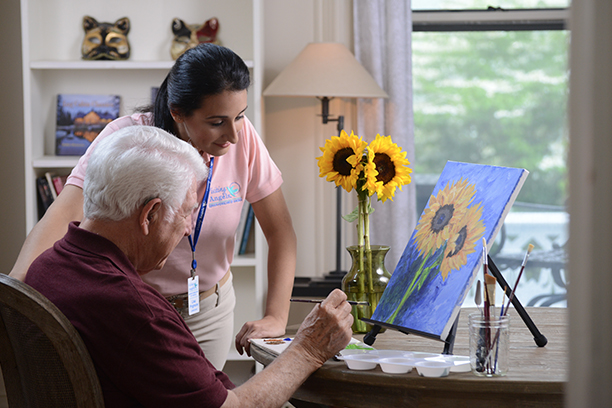 Dementia Care Services and Socialization in Jacksonville
Visiting Angels Jacksonville is a locally-owned and operated at home care agency helping families care for loved ones with dementia. At Visiting Angels Jacksonville, we understand that a loved one's diagnosis of dementia brings with it many health and wellness concerns. Families often worry about nutrition, daily care, medications, and safety. One aspect of dealing with dementia that is often overlooked is your loved one's ability to socialize. It can be challenging, particularly for family members, to interact with someone who suffers from a memory related illness. However, even people who suffer from dementia still need social interaction and often retain their sense of humor. Dementia care services from Visiting Angels Jacksonville can help by assisting with activities of daily living.
Dementia Care Services Provide Relief for Family Caregivers
Knowing how to engage a parent or family member who struggles with dementia or Alzheimer's can be difficult, especially when it is easy to compare the changes in their personality and habits with times before the diagnosis. The mother who took care of you growing up may have moments where she doesn't recognize you or where she is leery of your help. Having outside dementia care services from a reputable agency such as Visiting Angels Jacksonville can take some of the pressure off you and offer additional support to your loved one.
One mistake families may make is to avoid their loved one who suffers from dementia. Social interaction and a feeling of belonging are important regardless of age and diagnosis. When you have dementia care services from Visiting Angels Jacksonville, your caregiver can help give you tips for successfully visiting with your loved one.
To help encourage successful visits between your loved one and other family members or friends, there a few things you can do. Let your visitors know where your loved one is in the progression of their disease to help manage expectations. If you have photos of the people who are coming to visit, you may even wish to show them to your loved one beforehand and give them some basic information about their relationship. Dementia care services from Visiting Angels Jacksonville can also help with this.
Most importantly, keep in mind that your loved one is still a person who longs to be heard and treated with dignity and respect.
If you think your loved one might benefit from dementia care services from Visiting Angels, call our offices in Jacksonville or Amelia Island today to schedule your complimentary in home assessment.
Serving Jacksonville, Amelia Island, Duval, Clay, and Nassau Counties
Visiting Angels
JACKSONVILLE & AMELIA ISLAND, FL
4250 Lakeside Dr
Jacksonville, FL 32210
Phone: 904-302-7560
Fax: 904-352-2357
HCA232729 & HHA299994100