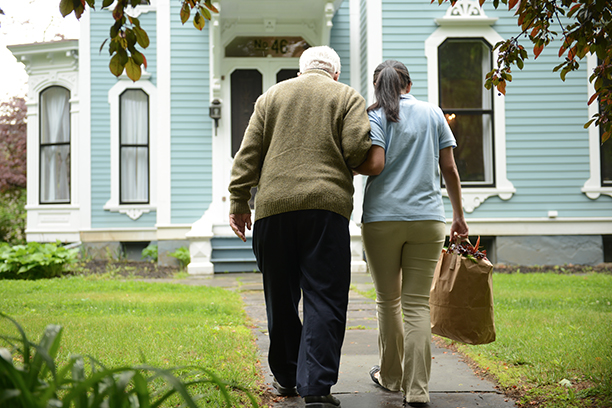 Home Care on Amelia Island
For compassionate home care on Amelia Island that is tailored to your family's needs, turn to Visiting Angels® Jacksonville. We provide comprehensive home care services to help local seniors live more fully, safely, and comfortably in their own homes.
We are proud to be a certified home care agency that is committed to improving the lives of our clients and their families. We provide essential support for families across Amelia Island and the surrounding communities, including Fernandina, Neptune Beach, Fleming Island, Jacksonville, Jacksonville Beach, Orange Park, and Atlantic Beach.
Our caregivers are all based in the Jacksonville - Amelia Island area and have been hired for their abilities, their caring personalities, and their commitment to making each day better for their clients. As part of our rigorous vetting process, all our caregivers have also passed a criminal background check.
About Our Home Care Services
As a locally owned home health agency, we're deeply invested in the continued comfort and quality of life of our elderly clients, as well as the peace of mind of their families. When you entrust your loved one's care to us, you can rest assured your loved one will receive the care they need to thrive.
The services we offer include:
Bathing and dressing assistance
Walking and transferring support
Medication reminders
Grocery shopping and other errands
Meal planning and prep
Respite care
And more
Establishing Your Home Care Needs
Every family has unique care needs that typically evolve over time. We offer personalized home care services and scheduling that can include weekends, holidays, and any time you need support. First, though, we need to learn more about your loved one, including their condition, preferences, and the care they receive.
When you contact Visiting Angels Jacksonville about our assisted home care for a loved one in the Amelia Island area, we'll guide you through the following process to ensure you receive the most impactful care:
An initial conversation that covers your loved one's general condition, the types of care they may require, the services we offer, and what the potential costs would be
A thorough, no-cost assessment of your loved one's care needs and situation that can include family members involved in their care
A care planning stage where we determine the ideal home care services and schedule to address your loved one's needs
A selection process where we recommend a specific care professional whose skill set, temperament, and schedule are the best fit for your family
What is Personal Care?
Personal care is the most common type of care we provide. It's the foundation for all of our services. When a loved one struggles to care for themselves, we can provide the assistance they need.
Our caregivers can help with a range of day-to-day activities that your loved one may find difficult. Depending on the situation, these services can include the following:
Helping with dressing and bathing
Providing support when walking or changing locations
Creating meal plans and preparing meals
Picking up groceries and handling other errands
Providing medication reminders
What is Respite Care?
Are you already assisting your loved one with basic tasks around their home? Through our respite care, we can be there for your relative in the moments when you can't be or when you are feeling overwhelmed.
Many family caregivers experience burnout and exhaustion. It's especially common among those who are working and raising families of their own as well as caring for an aging loved one. We offer respite care to give family caregivers like you a chance to step back. While you take time to address your own needs, you can breathe more easily knowing that your loved one is well cared for.
Alzheimer's and Dementia Care
Millions of Americans are affected by Alzheimer's disease and other variants of dementia. These conditions can make daily life more difficult for seniors. They can also pose significant risks like wandering and neglecting basic needs.
Our Alzheimer's and dementia care services can address these specific challenges. As part of your loved one's comprehensive care plan, we can include the following assistance:
Regular visits to provide comfort, consistency, and cognitive stimulation
General monitoring of their condition to identify changes or risks
Prompts to take medications and attend vital appointments
Planning and making filling, nutritious meals
Palliative Care
Our palliative care is a holistic service that provides physical, mental, social, and spiritual relief for individuals diagnosed with a serious health condition. We promote the comfort of our clients, regardless of age or life expectancy.
With our compassionate care, your family can simply focus on each other.
End of Life Care
In contrast to palliative care, end of life care is available for those approaching the end of life transition, or in the final stages of an illness. Our caregivers can help minimize your loved one's discomfort and take over routine tasks for your family so you can treasure your time together.
Hospital Discharge Support
The first month after a hospital stay poses the highest risk for hospital readmission. With that in mind, we offer hospital discharge support via our Ready-Set-Go-Home program. Our care professionals can be there for your loved one at the hospital and once they return home, ensuring your relative understands and can follow their discharge instructions.
Fall Prevention Assistance
A fall only takes a moment, but it can lead to grave injuries that can prevent seniors from living as independently as before. To reduce your loved one's risk of such an event, we offer our Safe and Steady program.
We can evaluate your loved one's condition and their home to identify and address their unique risk factors. We can also incorporate walking and transferring support into their care.
Get Started with Home Care on Amelia Island
If you're concerned about a loved one's ability to remain safely and comfortably at home, we can help. Call Visiting Angels Jacksonville today at (904) 302-7560 to discuss our home care for seniors in the Amelia Island - Jacksonville area and set up your no-cost consultation.
Serving Jacksonville, Amelia Island, Duval, Clay, and Nassau Counties
Visiting Angels
JACKSONVILLE & AMELIA ISLAND, FL
4250 Lakeside Dr
Jacksonville, FL 32210
Phone: 904-302-7560
Fax: 904-352-2357
HCA232729 & HHA299994100