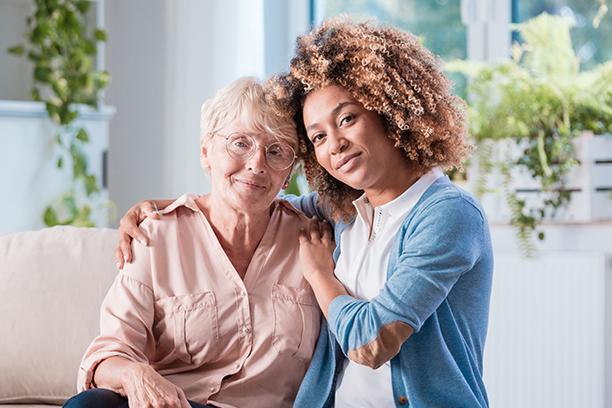 Home Care Assistance for Jacksonville Families
Home is a haven, where we're most comfortable and secure. And yet, as a loved one ages, it can become a more difficult place for them to live independently. If you're facing this situation with an elderly parent or family member, you don't have to do it alone. Turn to Jacksonville, FL's trusted non-medical home care assistance agency. At Visiting Angels® Jacksonville, we can help your loved one continue to enjoy the comforts of home while also extending the helping hand needed to keep them safe and healthy.
A Comprehensive Solution for Your Home Care Needs
If you're just starting down the path to home care, your list of questions is likely endless. What's the right level of care? How will your family member respond to bringing in an at-home caregiver? How can a caregiver ensure your loved one's safety while still respecting their boundaries and privacy? And what about personality? How will a home care agency provide a good match to your loved one's?
All of these are common home care questions that need answers. At Visiting Angels Jacksonville, we can provide you with the information and guidance you need so you can make the right home care assistance decisions for your family member. We understand the journey you're on is a hard one. And we're here to help, wherever your loved one is in the aging process.
How Home Care Assistance from Visiting Angels Jacksonville Works
Whether you've been evaluating options for months, or you're in a crisis situation, Visiting Angels Jacksonville can assist you with a home care plan customized to your loved one. If you are in an emergency, such as dealing with a late-day discharge at a medical facility, we can respond quickly to your needs. We can also help smooth the transition when a loved one is facing a relocation into your home, as well as provide bedside and in-hospital assistance.
When you choose Visiting Angels Jacksonville for home care assistance, we will provide you with:
A complete evaluation and in-home visit so we understand the needs of your loved one. During this time, we can discuss services, scheduling and costs.
A home care assistance plan customized to your loved one's specific needs today, but that can also be modified in the future as new needs arise.
Coordinating and assigning compassionate, engaged caregivers who can best fulfill your loved one's custom care plan.
Regular communication and updates, along with an after-hours support line in cases of emergencies.
Our home care assistance services are available to families in Jacksonville, Amelia Island, Fernandina, Fleming Island, and Orange Park. If you'd like to learn more or to schedule a no-cost, no-obligation consultation, call our Jacksonville office today.
Serving Jacksonville, Amelia Island, Duval, Clay, and Nassau Counties
Visiting Angels
JACKSONVILLE & AMELIA ISLAND, FL
4250 Lakeside Dr
Jacksonville, FL 32210
Phone: 904-302-7560
Fax: 904-352-2357
HCA232729 & HHA299994100