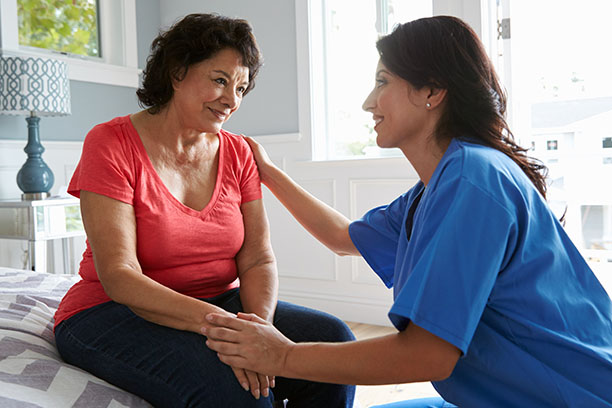 Trusted Dementia Care for Amelia Island-Area Seniors
Having a parent or loved one who has recently been diagnosed with dementia can be overwhelming. You may be feeling uncertain and concerned, not to mention unsure of where to turn. Know that you do not have to care for your loved one with dementia all on your own. Our dementia care services have helped many families in the Amelia Island area help their loved ones with dementia live out their golden years safely and comfortably at home.
Aging in place can be very beneficial for seniors living with dementia. The safety, comfort, and familiarity of home is unmatched. Rather than the jarring move to a nursing home or assisted living facility, our dementia care is provided directly in your loved one's home. Dementia causes confusion and disorientation for seniors. Aging in place allows your loved one to stay surrounded by familiar surroundings, which can help them stay calm during these times.
Personalized Dementia Care Services for Seniors in Amelia Island
We are a locally owned and operated home care agency made up of professional caregivers living in the Amelia Island area. We see the seniors that we care for as our neighbors and our friends. That's why we take a personalized approach to the dementia care services we provide to Amelia Island-area seniors.
Before we begin care, we meet with our clients and their families to find out how our home care services can best serve them. Our caregivers are available during the day as well as on weekends, holidays, evenings, and overnights. This way, our clients' families can have peace of mind that their loved one receives the care they need when they need it.
Just some of the ways our dementia care services have helped families in Amelia Island, Fleming Island, Orange Park, Fernandina, Jackson, and throughout the surrounding area include:
Respite for family members who provide care for our clients
Medication reminders to ensure our clients receive the right dose at the right time
Providing a supportive and encouraging presence for our clients to spend time with
Encouraging our clients to adopt healthy habits to slow the progression of dementia
Watching over our clients to ensure that they do not get lost or injure themselves
Helping our clients cope with dementia-related confusion, anxiety, anger, and disorientation
Our in-home dementia care is geared toward helping seniors continue living independently at home. Dementia often hinders seniors from completing everyday tasks on their own. Our caregivers are able to step in as little or as often as needed. We assist with tasks like housekeeping, preparing meals, running errands, and personal care. We strive to make everyday life at home easier, safer, and more comfortable for seniors living with dementia.
Because dementia is a progressive disease, your loved one's needs are likely to change with time. As they enter the middle and late stages of dementia, they will require more assistance and comfort at home. Our adaptable care makes it simple to meet your loved one's changing needs. Their initial care plan will be designed to meet their specific needs and schedule requirements. As changes are noticed in your loved one's ability, health, and well-being, we can alter their care plan as needed. Our team happily works with you, your loved one, and their physician to create a care plan that serves them.
Our Dedicated Caregivers
We are a team of professional caregivers dedicated to providing compassionate dementia care services to seniors in the Amelia Island area. All our caregivers go through an extensive background and reference check before joining our team. We look for caregivers with previous senior care experience and, most importantly, we look for caregivers who have a compassionate and respectful approach to senior care.
At Visiting Angels® Jacksonville, one of our priorities is to create successful client and caregiver pairings. During your complimentary consultation, our care coordinator will gather information about your loved one's needs, schedule, and personality. All of this is taken into consideration when pairing them with one of our caregivers. Through our Select Your Caregiver® program, we allow your loved one to request a new caregiver if they are unsatisfied with the initial pairing. We want both you and your loved one to feel comfortable working with one of our caregivers.
Get started with us by scheduling your free in-home care consultation. We are eager to learn about your loved one's needs and answer any questions you have. Our team is here to provide the home care your loved one needs and offer you support and peace of mind. We look forward to connecting with you both.
Contact Visiting Angels Jacksonville today to find out more about how our dementia care services can help you and your family care for your loved one in the Amelia Island area.
Serving Jacksonville, Amelia Island, Duval, Clay, and Nassau Counties
Visiting Angels
JACKSONVILLE & AMELIA ISLAND, FL
4250 Lakeside Dr
Jacksonville, FL 32210
Phone: 904-302-7560
Fax: 904-352-2357
HCA232729 & HHA299994100