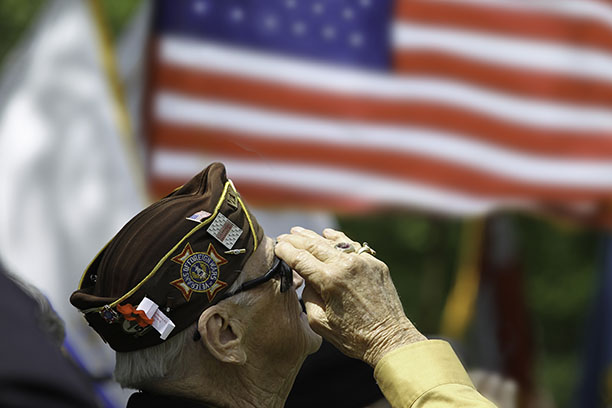 Learn About Veteran Care Programs Available to Veterans and Spouses
Visiting Angels Oshkosh Provides In-Home Care in Partnership with the VA for Veterans in Winnebago County
Visiting Angels Oshkosh works with the U.S. Department of Veteran Affairs (VA) to offer aging veterans quality non-medical, in-home care. Preserve your loved one's independence while receiving compassionate and dedicated care from our Angels.
Visiting Angels Oshkosh understands the sensitive needs of military veterans. Many require assistance earlier in life than civilians because they are prone to many health issues, including Alzheimer's disease, dementia, and PTSD. We focus on helping your loved one heal their spiritual, emotional, and physical well-being.
Dependable In-Home Support Guaranteed from Visiting Angels Oshkosh
Are you eligible to receive VA benefits for in-home care? If you or your spouse were active-duty air, naval, or military, you or your surviving spouse could apply for benefits.
Here are some of the services provided by Visiting Angels, covered by VA programs:
Daily living activities, such as bathing, dressing, eating, and toileting
Meal prep, light housekeeping, and laundry
Running errands on your behalf
Companionship, including emotional support
Active or passive exercise assistance
Medication reminders
Specialized care for those affected by Alzheimer's and dementia
Respite care for loved ones
Our caregivers work closely with you and your loved one to ensure they receive safe, quality care.
Are You Qualified to Receive VA Benefits?
The VA offers two programs to help your loved one receive the exceptional care they deserve. The first program, Aid and Attendance Benefits and Housebound Allowance helps cover the cost of in-home home care for those who require daily living activity assistance.
The second program, Homemaker and Home Health Aide, determines home care and home health aide qualifications based on an order by a VA physician.
Both programs can have a lengthy and somewhere involved process, but get your loved one the help they deserve so they can continue living well.
VA Aid and Attendance Benefits and Housebound Allowance
The eligibility requirements for this program include being an active-duty military member for at least 90 days, with one of those days being during wartime, and meeting both asset and income limits.
Once approved, this program allocates up to $1,936 monthly to veterans and up to $1,244 for a surviving spouse. Another program option is providing a veteran and their spouse up to $2,295 monthly. These funds are tax-free and can be used to help pay for the cost of Visiting Angels Oshkosh.
VA Homemaker and Home Health Aide Care (H/HHA) Program
Any veteran enrolled in the VA health care clinic with a clinical need for assistance (determined by a VA physician) is eligible for the H/HHA program. These services, provided by Visiting Angels, ease your daily living activities while allowing you to remain comfortably in your home.
A major goal of the program is to reduce the need for hospitalization or institutionalization for veterans.
Proudly Serving Our Winnebago County Veterans at Visiting Angels Oshkosh
We understand the need for veterans to remain independent and the sensitive nature of providing care services to senior veterans. At Visiting Angels, our in-home care services help maintain your routine so you feel confident and secure at home.
We help you navigate your VA program application process and are happy to answer any questions about getting the quality care you need.
Contact Visiting Angels today to get information on caring for your loved one. We proudly serve the veteran community in Oshkosh with companionship and comfort.
Serving Winnebago County
Visiting Angels
OSHKOSH, WI
300 S Koeller St Suite G
Oshkosh, WI 54901
Phone: 920-312-7000
Fax: 920-328-0324