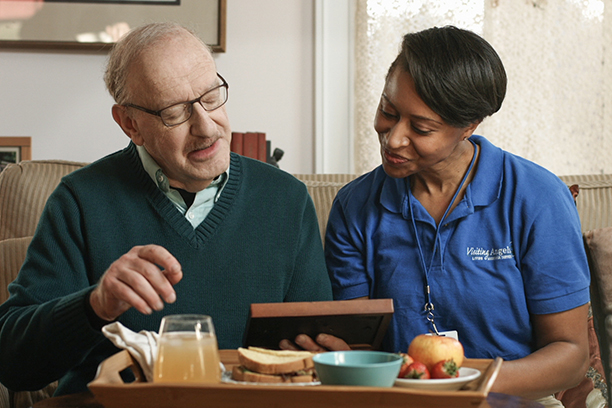 Visiting Angels Oshkosh WI: What is Home Care Assistance?
With work and family responsibilities, coordinating ample care for your parent, grandparent or another relative can add a lot of stress to your day-to-day life. Questions will most likely pop up, and you may not know where to start. At Visiting Angels Oshkosh WI, we are dedicated to answering any questions you have so the transition to home care assistance is smooth. Our commitment to open communication, compassionate home care assistance, and treating our clients with respect has made us a trusted source for care in the Oshkosh area.
The Home Care Assistance Oshkosh Families Trust
"Home care assistance" is the catch-all term we use for the in-home elder care services that we provide. Our non-medical care includes assistance with a wide variety of tasks and activities. With help from our compassionate caregivers, your loved one can remain engaged and receive the support they need. Whether care lasts for a few weeks, a few months or many years, we're here to help! A few of the ways we can help:
Assistance running errands and shopping
Providing assistance with activities of daily living
Working with you to create a schedule and customized care plan
Creating a service list around your budget
Providing your loved one with conversation, engaging in activities with them and helping them around the house
Coordinating access to the home and working around other in-home services
Flexible Home Care Assistance
It is our firmly held belief that home care assistance is at its best when it is adaptable and flexible enough to accommodate changes and short-notice situations. At Visiting Angels Oshkosh WI, our flexibility allows us to provide care in situations many home care assistance providers cannot. If you wish to change or modify any aspect of your loved one's care, just give us a call and we will facilitate the change. Most changes can be accommodated within 48 hours, with 24 hours being sufficient for many emergency situations (late-day release from assisted living or medical facility, location transfer, etc.).
Our team values communication, and we want to ensure that your loved one's status is never a mystery to you. We will keep an open line of communication with you throughout the duration of your loved one's care. We can also schedule follow-up consultations or meetings at your convenience to discuss possible changes or simply to reassure you that your parent or grandparent is in good hands.
Call Visiting Angels Oshkosh to schedule your obligation-free home care assistance consultation today.
Serving Winnebago County
Visiting Angels
OSHKOSH, WI
300 S Koeller St Suite G
Oshkosh, WI 54901
Phone: 920-312-7000
Fax: 920-328-0324