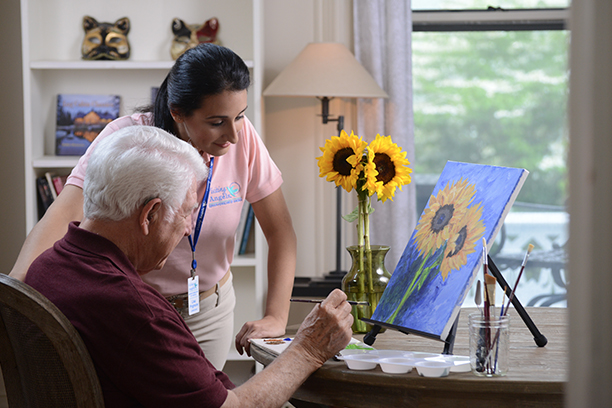 Employer of Choice
Visiting Angels Receives 2017 Best of Home Care®–Employer of Choice Award
Oshkosh, WI – Visiting Angels announced today that it has received the 2017 Best of Home Care – Employer of Choice Award from Home Care Pulse. The Employer of Choice Award is granted only to the top-ranking home care providers, based on caregiver satisfaction scores gathered by Home Care Pulse, an independent satisfaction research firm for home care. Visiting Angels is now ranked among the best employers of in-home caregivers in the region.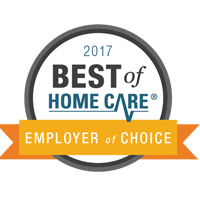 "We congratulate Visiting Angels on earning the Best of Home Care – Employer of Choice Award," says Aaron Marcum, CEO and founder of Home Care Pulse. "Since this award is based on employee feedback, it shows the dedication Visiting Angels has to providing their employees with a great working experience, while ensuring clients have well-trained, compassionate caregivers."
Best of Home Care – Employer of Choice award-winning providers work with Home Care Pulse to gather feedback from their caregivers via live phone interviews each month. Because Home Care Pulse is an independent company, it is able to collect honest and unbiased feedback. Visiting Angels has received this award for their outstanding performance in the following caregiver satisfaction categories:
Openness to New Ideas
Office Support Staff

"Receiving this award is very important to us because it demonstrates our dedication to providing excellent in-home care," says Tom Thompson, President of Visiting Angels of central Wisconsin.

"Our goal at Home Care Pulse is to empower home care businesses to provide the best home care possible," says Aaron Marcum, CEO and founder of Home Care Pulse. "We are happy to recognize Visiting Angels as a Best of Home Care – Employer of Choice, and we celebrate their accomplishments in building a team of happy, qualified caregivers to care for their clients."

To find out more about Visiting Angels's commitment to excellence, please visit www.visitingangels.com or call 844-215-9100.

About Visiting Angels
Company was founded in 2015….and its mission is to assist our clients so they can continue to live comfortably in their homes and maintain their independence in familiar surroundings. We are dedicated to providing an outstanding experience for our clients, their families and our caregivers. By operating our company on a highly ethical and professional level, we will enhance the lives of all those we serve.

About Home Care Pulse
Home Care Pulse is the industry's leading firm in satisfaction research and quality assurance. On behalf of home care businesses across North America, Home Care Pulse gathers unbiased satisfaction ratings from clients and caregivers and detailed feedback to ensure the best in-home care possible can be provided. Powerful online reports allow businesses to identify needs and take action to reduce increase satisfaction, reduce caregiver turnover, and address client needs. For more information, please call Home Care Pulse at (877) 307-8573 or visit homecarepulse.com.
Serving Winnebago County
Visiting Angels
OSHKOSH, WI
300 S Koeller St Suite G
Oshkosh, WI 54901
Phone: 920-312-7000
Fax: 920-328-0324