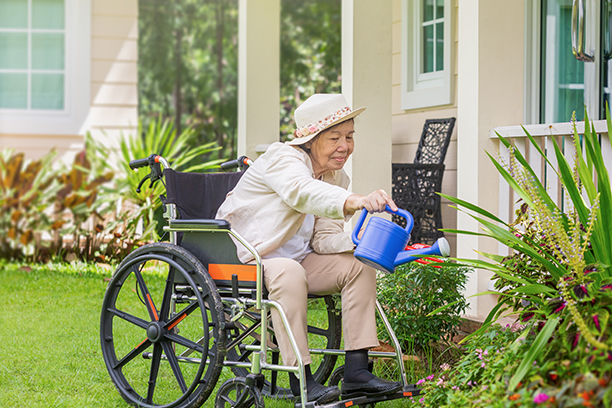 Prevent Falls with Senior Care Services in Oshkosh
At Visiting Angels® Oshkosh, WI, our wide range of senior care services help seniors live longer, safer, and more comfortably in their homes. One of the ways we help seniors is by helping prevent falls in the home. From tripping on rugs to falling from step stools, seniors are at risk for falls. Each year, 30% of American seniors will suffer a fall. Because our bones become fragile as we age, often these falls require hospital attention, or they may be fatal.
How can you help a loved one avoid falls? One of the easiest ways is to identify areas of the home that put your loved one at risk for a fall. Unfortunately, without experience in this area, it can be difficult to notice these risk areas. At Visiting Angels Oshkosh, we can visit your loved one's home for a senior care services assessment. During that visit, we will conduct a complimentary Fall Risk Assessment when we will identify potential fall risks and discuss how to correct them.
If you want to get started preventing falls today, these helpful tips from the senior care services providers at our Oshkosh agency can help:
Make sure all family members know how to prevent falls and what to do if one occurs.
Provide sturdy, properly fitting shoes with nonskid soles.
Check eyeglasses for scratches, fit, and to be sure prescription is current.
Consider installing mobility equipment in the bathroom. Handrails, shower or tub grab bars and shower seats are helpful in preventing falls.
Remove small area rugs or add non-slip mats or double-sided tape under them to prevent slipping.
How Our Senior Care Services Help
At Visiting Angels Oshkosh, we offer a wide range of senior care services that help with everyday activities that can be difficult for seniors to complete on their own. Sometimes it's the simply every day tasks that can pose the greatest risk for falls. Climbing step stools, reaching for the top shelf of the closet or slipping on wet floors are common ways for seniors to fall.
Senior care services from our agency in Oshkosh can help with many tasks around the home including:
Showering, dressing and grooming
Light housecleaning and vacuuming
Planning and preparing meals
Driving to the doctor or other appointments
Providing medication reminders
Transferring assistance
Walking assistance
Our senior care service professionals help Oshkosh seniors and disabled adults avoid falls every day! Call our Oshkosh, WI office to book a senior care service consultation and find out how we can help your loved one life safely at home.
Serving Winnebago County
Visiting Angels
OSHKOSH, WI
300 S Koeller St Suite G
Oshkosh, WI 54901
Phone: 920-312-7000
Fax: 920-328-0324