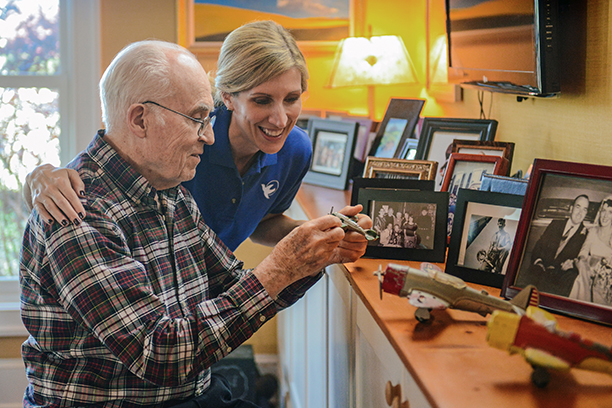 Transitional Care in Oshkosh Helps Avoid Hospital Readmissions
Ready-Set-Go Home with Transitional Care
If you are caring for a loved one who has or is facing a hospital stay, it's important to understand the risk of readmissions facing seniors. Did you know that one out of every five seniors is readmitted to the hospital within 30 days after being discharged? While it's a pervasive problem, it's one that can be solved with transitional care from Visiting Angels® Oshkosh.
Research tells us that hospital re-admissions occur for a variety of reason. Those can include:
No discharge plan. Without a plan for how to continue healing at home, many seniors fall into patterns that can jeopardize their recovery. That's why Visiting Angels Oshkosh provides a Ready-Set-Go Home Discharge Planning Guide that can be completed by your medical team before going home.
Exhaustion. Resting in a hospital is nearly impossible. Constant interruptions, unfamiliar surroundings and chaotic routines exhaust seniors, create anxiety, confusion, and sometimes depression.This can cause seniors to return home feeling tired not recharged.
Adapting to new medications. After going back to their Oshkosh home, seniors can forget to order and/or take new prescriptions. Our transitional care professionals can arrange prescription delivery and ensure medications are taken regularly.
Difficulty managing at home alone. Many seniors find it hard to return to their normal routine while trying to regain their strength. Our compassionate caregivers provide transitional care that includes light housekeeping, running errands, preparing healthy meals or special diets as well as driving to follow up medical appointments.
Failure to follow medical instructions. Using the Ready-Set-Go Home Discharge Planning Guide, our transitional care providers ensure that doctors' instructions and follow up visits are followed.
Transitional Care Prevents Readmissions
One of the main reasons for hospital readmission is a lack of a transitional care plan when leaving the hospital. At Visiting Angels Oshkosh, we want seniors to avoid expensive, unwanted hospital readmissions. That's why we have developed a comprehensive transitional care plan called "Ready-Set-Go Home." Our transitional care plan successfully helps seniors transition from hospital care to their Oshkosh Appleton homes with assistance from our professional caregivers.
At Visiting Angels Oshkosh WI, our transitional care program eliminates re-admissions with a triple play strategy:
At the hospital – With your permission, your transitional care professional from Visiting Angels Oshkosh will work with your loved one's medical team to complete the Guide.
At home – One of our transitional care professionals will provide at home non-medical transitional care so seniors can recover in the comfort of their home. We can prepare meals following special diets prescribed by the doctor, monitor medications and fluid intake, and ensure that all discharge instructions are carefully followed.
At our Oshkosh office – Our dedicated team works closely with our in home transitional care professionals to ensure that they have the tools and resources to succeed at helping your family member recuperate. For example, our office team can arrange delivery for prepared food or groceries, special equipment, prescriptions-.
Find out how transitional care can help your loved one by calling Visiting Angels Oshkosh WI today to schedule a no-cost care consultation.
Serving Winnebago County
Visiting Angels
OSHKOSH, WI
300 S Koeller St Suite G
Oshkosh, WI 54901
Phone: 920-312-7000
Fax: 920-328-0324