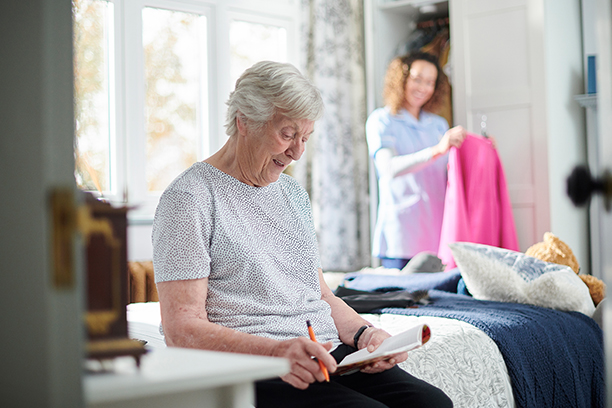 Dementia Care Assistance
Dementia Care Assistance from Visiting Angels Oshkosh WI
To say that dealing with a loved one who suffers from dementia is a challenge, is an understatement. While much is heard about Alzheimer's, dementia is often less talked about or addressed. It's easy to feel isolated when you care for someone who suffers from dementia. However, there are people who can help. Visiting Angels Oshkosh WI has knowledgeable caregivers on staff who are adept at providing dementia care assistance to aging clients.
Visiting Angels Oshkosh WI serves families in the area who are dealing with a diagnosis of dementia. Our dementia care assistance offers a respite for family caregivers and provides a helping hand to those who have been diagnosed. The compassionate caregivers we employ are knowledgeable regarding the unique challenges of caring for someone with a memory related illness. There is no need for you to struggle with caring for a loved one who has dementia. When you allow the professionals from Visiting Angels Oshkosh WI to provide dementia care assistance, you will gain not only assistance for your family, but peace of mind.
The types of assistance you can receive with dementia care from Visiting Angels Oshkosh WI are personalized to fit your needs. We can aid your loved one by helping with meal planning, shopping and preparation of dietary conscious meals. We can assist with bathing, dressing and personal hygiene needs. We can help by accompanying your loved one to doctor's visits and on errands. And last, but certainly not least, we can provide rewarding companionship and a trusted friend to your family member. By spending time in conversation, engaged in favorite activities, or going for walks, our Angel companions will form a special bond with your loved one. Dementia care assistance from Visiting Angels Oshkosh WI provides so much more than just physical care.
When you have a loved one with dementia, it is important for your caregiver to keep you up to date on their progress. At Visiting Angels Oshkosh WI, we provide regular monitoring of care to keep you in the loop. Not only do we provide regular visits and phone call to ensure customer satisfaction, we also invite you to contact us with any questions or concerns about your loved one. In fact, you can reach our office 24 hours a day. Even overnight, we have staff available to return your call within 15 minutes.
To learn more about dementia care assistance in Oshkosh WI from Visiting Angels, contact our office and speak with our knowledgeable staff members today.
Serving Winnebago County
Visiting Angels
OSHKOSH, WI
300 S Koeller St Suite G
Oshkosh, WI 54901
Phone: 920-312-7000
Fax: 920-328-0324