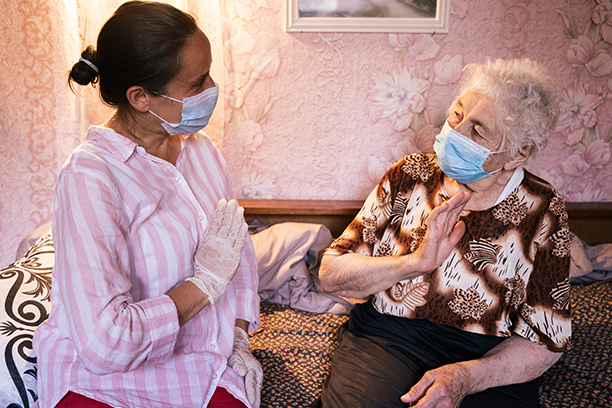 Dementia and Alzheimer's Care You Can Trust in Oshkosh WI
If a loved one is diagnosed with Alzheimer's or dementia, it can quickly feel overwhelming to manage their needs on your own. You want to make sure you give them the best care, with help from professionals who treat them like they're family. That's where you can rely on Visiting Angels Oshkosh WI and our Alzheimer's care services. As dedicated senior care specialists, we pride ourselves on providing quality in-home care that makes a positive difference in your loved one's life. Our friendly, reliable caregivers provide companionship and care that eases daily burdens. You'll finally have peace of mind, knowing that your loved one is in good hands.
Customized Alzheimers Care Plans for Oshkosh WI
Every person has their own unique needs, preferences, and personality. At Visiting Angels Oshkosh WI, we understand that Alzheimer's care programs that are one-size-fits-all simply aren't as effective as customized care. That's why one of our first steps is to sit down with you and devise a specific care plan that's tailored to your loved one's needs.
With your helpful input, we'll determine if they need part-time, full-time, or 24-hour support. Some seniors struggle a bit more during holidays, evenings, or weekends. If that's the case for your loved one, we'll make sure their caregiver can be on hand to assist them. Our care plans are designed to be highly flexible and easy to adjust – so as your relative moves through the stages of Alzheimer's or dementia, we can update their care to reflect that. At Visiting Angels Oshkosh WI, we understand the value of personalized care for your loved one.
Caregivers at Visiting Angels Oshkosh WI
At Visiting Angels Oshkosh WI, our Alzheimer's care specialists are kind, compassionate, and dedicated to improving the lives of seniors. We understand that it can be hard to bring a stranger into your home – so we try to make the process as easy as possible. Each of our caregivers is rigorously vetted through background checks, detailed interviews, and excellent references to make sure they're respectful, professional, and knowledgeable. We'll also bring you into the caregiver selection process, to ensure that the person we pick is an ideal fit for your loved one in skill-set and temperament. We always want your input for your loved one's care.
Get the support your family needs with in-home Alzheimer's care from Visiting Angels Oshkosh WI. Contact our office today to learn more about the specialized support we can provide your loved one.
Serving Winnebago County
Visiting Angels
OSHKOSH, WI
300 S Koeller St Suite G
Oshkosh, WI 54901
Phone: 920-312-7000
Fax: 920-328-0324